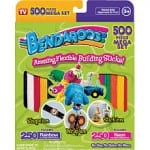 If you've seen the ads for Bendaroos then you were either intrigued or wondered if you could actually have fun with them and make crafts like the ones seen in the promo. So is this new toy to the market a winner, or does it end up in the Hall of Shame?
Overview
These sort of toys get a lot of scrutiny, because they try to make themselves look uber-fun, so much so that they rarely can live up to the promise of having such a good time. As parents we want our kids to have fun and also be stimulated when it comes to their imagination. Any toy that can combine fun with creativity deserves a shot. So let's see how Bendaroos stacks up.
The Claim
Bendaroos claim that you can do all sorts of things with these waxy, stringy creations. It was obviously the result of a brainstorming session from the advertising department. Here's what they came up with:
You can draw with them. By placing Bendaroo sticks onto their trace and place templates you'll be able to make flat, two dimensional drawings. This is a little tougher than it looks and you really have to focus and stay with it to make sure it turns out right.
You can build with them. By following their idea books, or coming up with your own suggestions you can build 3-D animals or other objects, all with Bendaroos and nothing else needed. Some of the examples they made were dinosaurs, fake food items, flowers, plants, and farm animals.
You can transform ordinary things with Bendaroos. By applying them to pre-existing stuff you have lying around the house you can make it more colorful and better looking than it currently is. They show a girl decorate a potted plant making it more colorful and interesting-looking.
You can decorate with them. Make things better by adding Bendaroo strings to them. You can make things like picture frames more colorful by adding these multicolored strings to them.
They claim that children aged three and up will be able to use and enjoy Bendaroos. This doesn't seem very feasible because they may end up poking their eye out or putting the Bendaroos in their mouth, nose, or ear. They may also lack the ability to sit still and focus long enough to create anything, either using the stencils or making something free handed.
Check out all the fun things you can do with Bendaroos:

The Hype
The hype comes in the form of these being just like pipe cleaners with a waxy coating. They don't really look that fun in the commercial and the things that you create with it aren't amazing looking, so this is really a tough sell at a nearly $30 price point. Luckily the cost has come down which puts it in the "oh why not?" category.
The Cost
When it was first released Bendaroos retailed for $20 plus shipping and handling, which got you double the order for a total of 500 strings. You can get the same kid now for less than $10 which includes shipping. You can also find it at brick-and-mortar retailers like Toys "R" Us.
The Commitment
If you want to have as much fun as the people in the video you really have to commit to using and enjoying Bendaroos. They're not going to play by themselves. They are also not going to give too much competition to Legos in the creation department, as the things that you can create aren't as clever as they make it seem and you have to use your imagination and squint your eyes a little bit if you want your creations to look good.
Evaluation
Functionally speaking Bendaroos work just fine and you can perform any of the tasks that are shown. We also like that you can get more designs from their website and are not limited to just what comes in the kit. Also, the idea book is great to have not only because it gives you a place to start, but also because it leads you in the right direction as far as making your own creations.
Common Complaints
Most of the complaints about Bendaroos come from the ordering process from the main website. Apparently there was a lot of trouble ordering them and many people felt that the company was a scam. Now that there are other avenues to buy the product which don't require you to pay extra for shipping, it should be a solid buy.
Final Bendaroos Review
Very few of the complaints about Bendaroos are in regards to how the product works, and many say works just fine. They also report that their kid had a lot of fun with them and that they were entertained for hours. It's not hard to see how kids can have fun with this, as it really lets their imagination run wild. They aren't confined to just blocks, they can bend and twist the strings into any shape they can think of and really gets their creative juices going.
Our Recommendation
If you think the Bendaroos system looks fun and you can imagine yourself having fun with it with your kids, you probably will. Functionally, it definitely works as advertised and you can make all sorts of designs and stick it on things you deem worthy. Since the price has dropped considerably we recommend buying a set of Bendaroos and give them a try if you think your kid would like them.
What do you think? Do Bendaroos work or not?