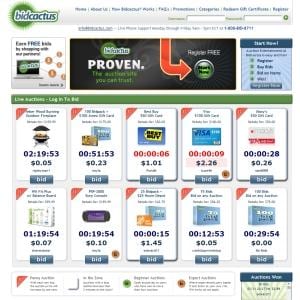 Can BidCactus be the source of cheap stuff? If you're a fan of eBay or Amazon, you know the beauty of discount and bidding websites to get everything that you want at a serious discount. Websites like these have garnered some of the most profit out of all start-up businesses because they cater to the mass's desire to buy and sell their things to make and save money.
BidCactus, a fairly new bidding website, allows people to securely bid on items in a bidding race in order to get them at steep discounts from retail price.
Overview
Essentially, BidCactus is a website that works on a gambling sort of system – each user places a bid on an item with no solid guarantee that they will win the item. Each bid a user places costs seventy five cents to make, which, while a fraction of the actual cost of the item, still doesn't necessarily mean that the person will win the item. In this way, you can spend hundreds of dollars without ever winning a single item on BidCactus.
A quick intro to the site, and how it works:

The Claim
BidCactus, like all bidding websites, claims that it can help people win products for a fraction of the cost of actual retail price by starting each product off at ridiculously low prices so that more people will bid on it.
The Hype
BidCactus is a bidding website that allows registered users to bid on new, higher-end items so that they don't have to pay a fortune on it in stores. Each item starts at a bidding price between a penny and ten cents, depending on its market value, and from there people bid it up, racing against a clock to be the last person to put a bid on the item. You can bid on virtually any sort of new item, from technology to gift cards and everything in between.
The Cost
BidCactus doesn't have a cost of use for each user, but it does cost seventy five cents to place a bid, whether or not that bid wins or not. This is how the website garners revenue from its users instead of eBay's way where it taxes users on their sales or purchases.
The Commitment
If you use BidCactus, you will have to spend an insane amount of time at your computer to really use it effectively. Because BidCactus depends on millions of other people on the internet who are all bidding on the same items as you, you will constantly be trying to save your item by outbidding the last person. You can pour days in to the website without any form of success, wasting tons of money without realizing it because bids are so cheap.
Evaluation
BidCactus is absolutely one of the worst websites around. Although it is licensed with the Better Business Bureau, BidCactus also has over sixteen complaints launched against them through the BBB, including but not limited to failure to deliver the product and unauthorized changes to the contract of agreement.
Because BidCactus also works as a gambling website or sorts, you can potentially (and probably will) spend days bidding on things and not realize that you are spending hundreds of dollars without any product to show for it. BidCactus lets you spend money but doesn't deliver the results it promises – items for a fraction of the cost, because by the time you get to the products you've already spent more than retail value bidding on that and other things!
Final BidCactus Review
Overall, BidCactus may be the only bidding website of its kind to get audited by a bank and it may be the only one approved by the Better Business Bureau, but that doesn't make it a good website. BidCactus is a waste of time and money, yielding few results for people unless they spend gross amounts of time on the website to figure out its nuance as well as to competitively bid for items.
Our Recommendation
If you're looking for a good deal on a big ticket item or just don't want to pay retail, BidCactus isn't the solution to your problem. Websites such as eBay and Amazon have been established and praised for a reason – they work. Don't trust BidCactus with even seventy five cents of your money… at the end of the day, they'll end up with all your cash and you'll end up with an empty wallet and nothing to show for it.

What do you think? Does BidCactus work or not?