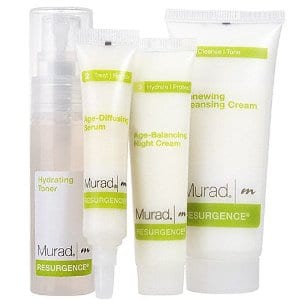 Murad has several different products, including those for acne, anti-aging, and for cellulite and stretch marks. So whether you're worried about breaking out, showing the signs of getting older, or fixing your scars and cellulite, they've potentially got you covered. However, acne, anti aging, and stretch mark products are notoriously hard to get right, so they're really trying to tackle to difficult problems. We explored further to see how well their products work.
Overview
Skin problems can really take a toll on your self esteem, whether it's experiencing acne as a teen or young adult, seeing fine lines and wrinkles start to form as you get older, or battling tough scars like stretch marks, or pesky cottage cheese legs from cellulite. All we really want is a product that works to get us back to our zit free, wrinkle free, cellulite free selves, but there are so many products that promise this and don't come through.
The Claim
There are many claims made by Murad as to what their products can do for you. They say that their cellulite fix works from the inside out. They claim their Acne Complex product line is the answer to your breakouts, irritated, oily skin, as well as redness. They also say that they have fixes for acne scars, as well as what to do if you've got both wrinkles and acne.
They say that their products are guaranteed to work because they blend scientific research with real clinical testing. They claim they were the first skin care product to be developed by a doctor. They also claim that the founder, Dr. Murad has helped millions of people with his various skin care solutions.
The Hype
The hype is that they are trying to offer so many different skin care products, each with their own unique problem to solve. Many companies out there only focus on one skin problem, so it is rather ambitious of Murad to think they can run the gamut on several different skin problems and get them all right.
The Cost
They have a wide range of products that can be as low as around $15 and as high as $45 or more, depending on which one you go with. At each price point, they range on the high side compared to competing products, but they are not overpriced, or ridiculously expensive.
The Commitment
You have to definitely resolve yourself to following the directions and seeing each type of treatment through to success. It won't be immediately clear whether these products are working for you or not, which is why you must stay the course and religiously follow the treatment regimens.
Evaluation
The consensus, overall, for the Murad product line is that it works. Of course with any skin care product there will be those that it doesn't work on, but you can't focus on single reviews to make your decision. You have to look at the data as a whole to see if there are any trends, and in this case Murad tips towards the positive.
Apparently Murad has had trouble with people selling their products without authorization. There are also some people out there selling knock-offs. Here is how they went about solving it, from their official site:
Look for Our Seal of Authenticity
Beginning January 1, 2009, authentic Murad products bear a seal with a state of the art, currency
grade hologram. When tipped, three patterns composed of elements of the Murad logo will be visible
on the seal. To avoid counterfeit goods and to enjoy the safety, quality and performance of Murad
products, always look for the Murad seal. Each seal also includes a unique code number that will soon
enable you to access "best used by" information here at Murad.com. Please avoid Murad products that
have defaced seals or otherwise tampered packaging.
They have 3 main offerings that are worth looking into further, to see how each one measures up:
Acne – Their acne products get mixed reviews, with some people saying that it didn't work to clear up their skin, and others saying that it did a great job at producing results. The most common complaint is that it's too complicated, with more than 4 different products to use, it's too time consuming and confusing to get it right.
Anti Aging – These products are well-reviewed, with most users saying that they love it, and won't use anything else after using this. A common complaint is the price, but for something that produces results the price is worth it, especially when it comes to making you look younger.
Cellulite – This one also gets mixed reviews, which is perfectly natural and to be expected. Stretch marks are well-known to be hard to get rid of, and cellulite also is the bane of many women's existence. So of course some people will find that it works for them and their situation, while others will follow the steps and see little if any results.
In addition to acne, anti-aging, and cellulite, they also have an assortment of products to specifically great combination skin and clogged pores, those with sensitive skin and redness, shaving products for men, as well as sunblocks and creams to protect from the sun. They really appear to want to be your one-stop shop for all of your skin care needs.
The name Murad comes from Dr. Howard Murad, the spokesperson and figurehead behind the company. This is also designed to give the products a sense of credibility and put some science behind them. When compared to competing products that don't have a doctor backing them, it does seem that this does put Murad products in a different class.
Final Murad Review
Murad is more of a high-end, high-results type of product. They don't skimp on quality, and it's reflected in the positive reviews given to most of their products. You may pay a little more, but you'll also get a little more. It's best to try it out for your own skin, and your own situation, rather than relying on other people's opinions. There's just too many unknowns as far as what type of skin they have, how bad their problem is, and if they used the product correctly.
Our Recommendation
We recommend considering the Murad skin care line for your various needs. They seem to be making a strong effort at bringing effective products at reasonable prices. We like that they have a philosophy about skin care, and part of that philosophy is taking a holistic approach to caring for your skin. Many other products put the blinders on to the rest of the body, and focus on eradicating the problem with no regard for the rest of your health.
What do you think? Does Murad work or not?