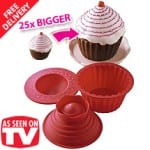 If your family loves cakes and cookies and the like you probably noticed the Big Top Cupcake ad and wondered if it actually works. Thinking of sharing all of that fun and excitement with your household would make anyone want to at least try it, but is it worth the money, and will you be able to make concoctions similar to the ones they show on the ads?
Overview
If your family has tired of the same old same old when it comes to birthdays and other family celebrations, you probably related to the people on the infomercial. They show everything turning around for them once they started using Big Top Cupcake, it all went from black and white to color. It'd be wonderful if the same happened for you and yours.
The Claim
Big Top Cupcake claims that you'll be able to replace boring old cakes with giant over-sized cupcakes. They claim that the cupcakes that get produced are up to 25 times bigger than your average ones. Maybe mini-cupcakes, but not regular sized ones, surely.
They claim that all you'll have to do is fill, bake, and decorate, and that that non-stick silicon inserts are way better than metal pans and nothing will stick to them.
Thay also claim that their magic center insert makes it easy to fill the cupcakes with any filling of your choice, really sprucing it up and making unique cakes. They claim that store-bought cakes are expensive, which they are, a store-bought ice cream cake can be just as much or more than the entire Big Top Cupcake package.
The Hype
The hype comes from the fact that the occasion to make a cake doesn't come around that often to make this a product that has a lot of daily or even weekly use. Most of the time it will just sit unused, and only get broken out for birthdays. Supposedly if you had it you could find reasons to make a cake, or just make one for no reason at all.
The Cost
The ads show that Big Top Cupcake is $20 and they claim that with everything included it's a $55 value. It's always a little vague how they calculate the value of products, or why they'd let it go for far less than its value. Today you can get it for $10 on Amazon.
But what we recommend is going all out and getting all three sets made by the same company for $37 at Overstock. This gets you not only the Big Top Cupcake but also the Big Top Cookie and Big Top Donut kits. That's about $60 worth of products if you would have bought from each infomercial separately, and you'll be in baked goods heaven with these sets.
The Commitment
If you currently do a lot of baking the Big Top Cupcake set will be a welcome addition into your home, and you'll no doubt get a lot of use out of it. If you always wished that you baked more, and you also wished there was an easy and foolproof method of making something that your family will actually want to eat, then this will be the product that gets you to do it.
Evaluation
The first time you try to pop the cupcake out of the mold you might have doubts, but these will all wash away when it comes right out. The silicon really is non-stick, but you'll want to make sure that you spray it with cooking spray per the instructions to get the best results.
You'll also have to go through some trial and delicious error as you figure out the proper amounts of filling to put in the molds. The instructions make it a little unclear, and different mixes and batters rise and fluff up a little differently from one another, but this rarely presents a problem to the overall look or taste of the cupcake.
Does Big Top Cupcake Really Work?
Yes, it succeeds at making a rather large cupcake. It might not be as big as depicted in the infomercial, but it is much larger than normal, and if you made a few of them they would definitely be enough to serve to a crowd of hungry onlookers.
Our Recommendation
Big Top Cupcake is a lot of fun. With the recipe book that you get with it, you can try your hand at a lot of different cupcakes, and even the ones that don't turn out quite like you planned are still yummy to eat. They are a fun way to spruce up birthday parties, and are good at replacing the same old rectangular cake that we're all familiar with.
What do you think? Does Big Top Cupcake really work?