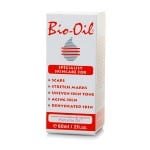 Bio Oil gets recommended by pharmacists, but does it really work? Today's harsh environment exposes the skin to a wide range of skin problems like premature aging, dark spots, and wrinkles.
Even if you are conscious about maintaining healthy diet and proper hygiene, it still becomes necessary to have a regular skin care regimen if you want to have clear and youthful-looking skin.
By using an effective method of caring for your skin inside and out, you can avoid having breakouts and other skin issues that can lead to permanent scarring and discoloration.
Overview
Bio Oil is a skin care product that was developed way back in 1987. It is marketed as an anti-aging formula, as it also works wonders in improving the general condition of the skin. Unlike lotions and creams, this product is oil-based, and as such, it is considered to be more effective in healing the skin due to its high absorption characteristics. It also stays longer on the skin, thereby increasing its efficacy rate.
The Claim
Bio Oil claims that it is good for aging and damaged skin conditions. It can be applied to the face and body, as it can remove acne scars, pimple marks, and even stretch marks. In fact, it also claims that it can improve the appearance of the skin by correcting uneven skin tone, so that you can have clear and flawless skin all over.
And since this product is made of natural ingredients that are extracted from plant sources, it is generally safe to be absorbed by the body.
The Hype
A lot of people are suffering from skin problems, and this makes skin care products always in high demand. It is quite difficult to find a skin care regimen that's highly effective for a particular skin type, and this makes it hard to settle for one product that you can regularly use for the long term.
That's why people are always eager to try new systems of skin care as soon as it is introduced on the market, and this holds true for the Bio Oil product too.
The Cost
Bio Oil is widely available in stores and at online shopping sites. You can purchase this for about $30 in a local pharmacy, or you can buy it online for about $10 for a 2-ounce bottle. Since this product is oil based, it is cost effective as a little drop can go a long way.
The Commitment
In order to make any skin care product work, you need to apply it to clean skin. You should therefore wash the affected areas first before using this oil treatment on your skin. The product specifically states that application should be done 2 to 3 times in a day, and that you should allow a minimum of 3 months to see significant results.
Evaluation
This product uses a realistic and natural approach in caring for the skin, and that's a good thing. It uses natural plant ingredients as well as vitamins and minerals that can speed up the healing process of damaged and aging skin. And unlike other products that can only be used for 1 particular skin problem, this oil has a multi-use characteristic. It can eliminate acne scars, stretch marks, and even discoloration due to aging.
Final Bio Oil Review
For a majority of Bio Oil users, this product works well. It has been observed that the oil is absorbed well by the skin and that it leaves no oily residue that can make the surface of the skin look shiny.
Those who have used this product for dark spots and acne scars have also noticed significant improvement in just a few months of use. However, there are also reports that discontinued use of the oil treatment can make the dark spots resurface again. There are also very few successful reports of Bio Oil being effective for stretch marks and surgery scars.
Our Recommendation
We are recommending Bio Oil to people who are seeking a cost-effective solution to their skin problems. In spite of its mixed reviews, it is still worth trying out, as you can get a bottle of this oil treatment for only about $10. Just be patient in waiting for any significant results, as it can take at least 2 months for the system to work.
We also don't recommend this product to pregnant women, because some of the ingredients in this oil treatment can cause birth defects.
What do you think? Does Bio Oil work or not?