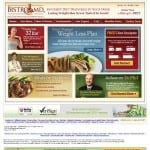 Losing the extra pounds can be one of the hardest things that one ever has to go through in life. Feeling heavy can cause low self-confidence leading to poor relationships at home and in the workplace. Even with diet and exercise, sometimes the weight just won't come off and you need extra help in order to lose the weight. Bistro MD provides a service in which they send your food right to your day, which will help you lose weight.
With the busy lives that we all lead, this can be an appealing approach because there is no work involved for us. All Bistro MD claims you have to do is eat the food and lose the weight.
Overview
Bistro MD is a weight loss delivery food program that offers to send you real chef prepared food that will taste good and help you loose the weight. They offer several choices for dishes which are dietitian approved and will make the process as easy for you as possible since you don't have to worry about the counting the calories or looking at the nutrition labels yourself. They offer food for breakfast, lunch, dinner and a snack meaning that you have all the meals of the day covered. The program gives you about 1200 calories a day to eat, depending on the food options that you choose.
The Claim
Bistro MD claims to provide food that sticks to strict nutritional guidelines that will help you to lose the extra weight. Thee guidelines are low in sodium, carbohydrates and protein fats so that you can rest assured that you are eating healthy foods that won't pack on the pounds. If you choose to not stick directly to their food menu, there is individual dietitian support to guide through food choices that are not chosen from Bistro MD. This diet claims to help you drop the weight fast, anywhere between losing 2 lbs a week to 5 lbs a week.
The Hype
The speed at which Bistro MD claims to help you lose weight is very fast. Losing five pounds a week is not something that is usually done through diet and exercise alone unless they are at extreme measures. In some testimonials, users claimed to lose up to 25 lbs in 12 weeks. The most appealing part of Bistro MD is that you don't have to do anything but eat the food to lose the weight. There is no exercise plan along with the meals. Finally, the food tastes good and is prepared by real chefs.
The Cost
Bistro MD's cost varies depending on which food you decide to order. The price also depends on the plan that you choose. The three plans include five days with snacks, five days of just meals and seven days a week with all meals included, the latter being the most expensive.
The Commitment
You can choose the commitment from the plans stated above. Staying strictly to the diet is important for losing the weight. This is reinforced through the personal dietitian consults that you get when you sign up with Bistro MD so that if you choose to eat food that is not theirs, you are still eating food that sticks to the same nutritional guidelines. Without these guidelines, you will not be able to lose the weight at the same rate as promised by Bistro MD. However, just as any diet, it only works as well as you make it work, meaning that if you don't stick to the food plans, you will not see the same results.
Evaluation
One of the biggest reasons that Bistro MD is popular is that the food actually tastes good. There are many other diet plans out there that will send food to your door for you to eat for a week with a healthy stamp on the box, but that doesn't mean that the food will be at all satisfying. Bistro MD is a step above most competition because of the quality of the food prepared by the chefs, allowing them to charge such high prices. The product works and helps you loose the weight, making it a good investment if you are willing to spend the money. There are other weight loss options with meals that claim to help you lose weight faster, but they do not have the same quality.
Final Bistro MD Review
This product will help you lose weight, even though the speed at which you lose weight varies. It is a good product because you don't have to do any work yourself when it comes to making sure you are eating right, you can let the food sent to your door and your personal dietitian do the work for you. This program is a step above other diet food delivery programs because of the perks that it offers, and is a great product for weight loss.
Our Recommendation
I recommend Bistro MD to anyone who is in the market for a weight loss meal plan has it in his or her budget to buy it. The food is prepared by real chefs and tastes good despite the healthy stamp on the box. The program is worth the money, if you have it to spend.
Official Website: BistroMD.com
What do you think? Does Bistro MD work or not?