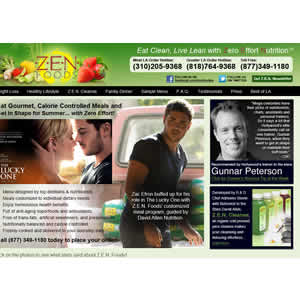 Backed by well-known celebrities like Zac Efron and Denise Richardson, ZEN Foods attempts to blur the line between fresh foods and delivered foods. They're part of a sub-niche of the diet food delivery industry, one that caters to those that want a high-quality meal made with wholesome foods, and freshly delivered. So can a company really pull this off and send freshly prepared meals to your house like clockwork, so that all you have to do is worry about eating, and feeling good?
Overview
When it comes to losing weight, do you really need to choose between prepared meals that taste like they were made last year, and freshly made foods that take the better part of an hour to make? If you've been wanting to lose weight and eat right, and have been frustrated with the options available to you, you may not have known that there are companies that are trying hard to make diet food delicious, and deliver it right to your front door.
The Claim
ZEN Foods claims that you can "Eat Clean and Live Lean" and the acronym stands for Zero Effort Nutrition. It's a good premise, and all of us really should be striving to eat healthy foods, free of nasty things like preservatives, pesticides, hormones, and genetically modified ingredients. They further claim that your meals are never frozen, that they are cooked fresh and arrive fresh. They also state that you can get vegetarian meals, which is lacking from some of their competitors.
They say they can help all sorts of people with their food requirements, whether they you've been struggling with your weight for years, or whether you're a health nut that likes to try out the latest in health food developments, or if you've been put on a calorie restricted diet by your doctor. They can even help feed families that want to eat together, but don't have the time to assemble a healthy meal.
The Hype
The hype comes from all of the celebrities that are endorsing the ZEN Foods program. It's fun to see a celebrity say a product works, but most of us realize they are getting some sort of kickback either free food, or a paid endorsement, or both. It's the life of a celebrity, so we take it in stride, but it does provide a bit of hype. I'm sure we'd all recommend ZEN Foods if we got fed for free.
The Cost
At $53 a day this is definitely not your run of the mill diet food delivery program. However, this price is on par with other gourmet and organic services, so the old adage you get what you pay for definitely applies.
The Commitment
You get to choose how many days you sign up for, and that's pretty much the only real commitment you have. You can also choose to get more active while you're on their weight loss program, so that you get to see even more results. Think about it this way, all of the celebrities that are endorsing it are more than likely also working out regularly and taking good care of their bodies. Although food is the most important aspect of feeling good, you should still supplement it with regular exercise of some sort, anything that gets you moving.
Evaluation
Let's face it, in some not-too-distant future none of us will cook anything any more, and high quality food delivery programs like this one will become the norm. This doesn't have to be a dystopian outlook, and you don't have to wait for it to arrive either. If you run the numbers and total it all up, you might be surprised to find out how much you actually spend to feed yourself. There are a lot of hidden costs. It's just what our modern world is leading to, and it's OK because it beats relying on fast food or other not-so-healthy options to get you through the day.
Outsourcing Your Food
You have to first get an accurate idea of how much your time is worth, by the hour, and then see how much time you spend driving to the store and back, shopping for food, putting the food away, preparing the food to be cooked, cooking the food, and then cleaning up the mess when you're finished eating. Next you have to figure out how much you spend on the food you make, and also the gas that you use up to get the food from the store to your home.
Unless you get real joy from cooking, which some that aspire to be a chef do, but most of us don't, you should think about saving all of that time cooking and applying it towards activities that you do enjoy, or that make you money, so you can pay for services like ZEN Foods. It's basically a form of outsourcing and can lead to a happier, more efficient you, aside from all of the health benefits it would provide.
Final ZEN Foods Review
ZEN Foods gets mixed to positive reviews, and almost everyone agrees that they're reliable if nothing else. They might want to work on varying up the menu, because some people complained that it can get pretty predictable, but others have stated that they really enjoyed the foods, and looked forward to bringing in their package every morning. Since we're not in the delivery area we weren't able to try it first hand, and will leave it to our loyal visitors to leave a Thumbs Up or Thumbs Down review either at the top of the page, or below in the comments section.
Our Recommendation
We can only hope that ZEN Foods will extend their services to the rest of the country, the feedback on it has been very good, and it can't be that hard for them to open a few more kitchens in select markets across the US. Until then, Angelenos should take a look at what they have to offer and give it a try on a 7 day plan and see what you think. Those outside the area might want to take a look at Bistro MD or Diet-to-Go to fill the void until then.
What do you think? Does ZEN Foods work or not?