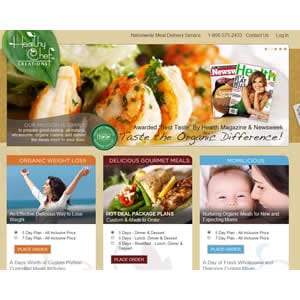 The main focus of Healthy Chef Creations is on organic foods. That's they're big selling point, and is designed to separate them from the pack. It does seem to be the one thing that's missing in all of the diet food delivery programs out there. No one seems to want to tackle the feat of trying to prepare fresh organic meals and then ship them cross country. Does Healthy Chef Creations pull it off, and can they do it without breaking your budget?
Overview
Diets suck, but delivery food programs try to make them suck a little less. Recently it seems that there are a string of companies emerging that are trying to make dieting as painless as possible. IF you think about it, we'd all love to eat healthy, fresh, organic foods in our own homes, but it's just too time consuming to think about, and buying high quality food items is expensive. Then comes the burden and stress of trying to prepare them well, so they don't go to waste, and so they taste as good as they can. Who needs the hassle?
The Claim
The premise of Healthy Chef Creations is that they will do all of the worrying about what to make, how to make it, and which foods to use, all you have to do is worry about heating it up and eating it. They say they use all organic foods in their preparation, which is pretty remarkable. Although, if they are buying in bulk it actually makes sense. Things are more expensive if you and I try to buy them individually, but when a company like HCC can buy in bulk, they can save money, and make a profit at the same time.
The Hype
The hype is that this is all organic based, and organic went from being something that only the health crowd knew about, to something that the mainstream knows about, and companies like Wal-Mart and even McDonalds are trying to capitalize on. It's become just a buzzword, and a way to charge extra for food and give it a perceived higher value.
The Cost
Healthy Chef Creations is one of the most expensive food delivery programs we've discovered. We ran a two week trial of their weight loss package and the per day cost came to $60. This seems a bit expensive, and almost like it would be doable only for the 1% that people are occupying Wall Street over. If you ate their food exclusively for an entire month it would set you back $1800. It's supposed to be organic, and spa-inspired, but how good can it taste, really, to justify this price tag. But we will set aside the price for now, because their all-inclusive meals make it so you won't have to buy anything else.
The Commitment
You get to choose how many days you sign on for, and how many meals you want to have included in your meal plan. In that respect there is no long term commitment, and they don't say that you need to workout or exercise while on their plans. Although of course if you are eating organic you'll probably have increased energy and feel like going for a walk, or taking a bike ride, and this added activity will help your overall well-being.
Evaluation
We like that they have special plans for moms and mothers to be, because it's especially important to cleanse your body and keep it free from toxins and other chemicals when you're "eating for two". It is worth the extra price to make sure that your baby is getting the best start in life, and only one other company Freshology, has a plan that is designed just for expectant mothers.
Is Organic Worth the Fuss?
A lot of people think that the word organic is just a way to command a higher price, and they could probably make a good argument for that with Healthy Chef Creations being more expensive than other gourmet food services. But truly organic foods really are different than ordinary food, not so much for what they contain, but for what they don't contain. They aren't genetically modified, they don't use pesticides on the vegetables, and the meat comes from animals that also ate organic feeds, and weren't pumped full of hormones. So yes, it definitely makes a difference in the quality of the food.
Final Healthy Chef Creations Review
Almost everyone that has tried Healthy Chef Creations has said that the food does indeed taste great. Usually we do use price as a factor in our reviews, because we feel that you should receive good value for your dollar. With something like this though, you have to be sure that you're comparing apples to apples.
Healthy Chef Creations can't be compared to something like Bistro MD or Diet-to-Go, because they aren't exactly the same thing. They are both competing for your diet delivery food dollar, but if you are looking for organic food you can't seriously consider going with the more mainstream options, because not only are they not organic, but they're heavily processed and preserved. Perhaps a true competitor comes along that offers organic meals delivered to your door, the price of HCC will come down, but for now it just is what it is.
Our Recommendation
Healthy Chef Creations would definitely be one of our top picks, as it can be hard to get organic items and prepare them with craftsmanship. This is great for wannabe chefs to get a look at what you can do with some of the foods being sold from places like Whole Foods Market. You want to make sure that you prepare these organic meats, fruits, and vegetables in a special way, and HCC can give you some insight into how to do this. We recommend trying them out on a limited basis to get some meal plannings tips, but most will find it prohibitively expensive to do eat it exclusively or for the long term – unless you're Bill Gates!
What do you think? Does Healthy Chef Creations work or not?