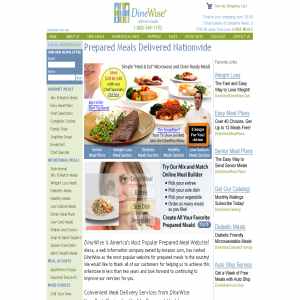 DineWise is a gourmet food delivery service that stresses just how customizable they are. No matter what your goals, whether weight loss, muscle gain, or even if you just want to eat gourmet foods without having to cook them yourself or go to a restaurant, you should be able to find something on their menu that suits you. At least that's their claim, so let's look a little further and see whether DineWise is something that you should invest in or not.
Overview
Diet food delivery programs are nothing new, and DineWise has been in the game for 45 years. Of course it's just been in recent years that companies have started offering nationwide programs, and using delivery services like FedEx to ship meals all across the country. Before that, it was just locally based companies that would serve their local delivery radius. Now companies are using special shipping containers, as well as ice packs to keep food cold during transit. So now you have a lot more options, and gourmet services are becoming more and more available.
The Claim
DineWise claims that they use only the finest restaurant quality foods to create their meals. They also claim that they flash freeze their foods when they're fresh, and right before they ship them out to you so they should be fresh tasting when you receive them and warm them up. They also say that they keep simplicity in mind, focusing on creating meals that you can prepare easily for yourself. This is important because you don't want to go with a delivery program that causes you to cook just as much as you would normally have to on your own.
They also say that there are thousands of different meal combinations that you can make, because they let you mix and match entrées with sides so you get fully customized meals, right down to the individual items. They even claim that they can help you feed your entire family, with family style meals made for sharing.
The Hype
DineWise boasts that they're the most popular prepare meals service out there, which is a little bit of a stretch seeing how their food costs twice as much as services like Nutrisystem, and fewer people know that it even exists. Also, eDiets is a publicly traded company and would be considered a major competitor that probably has more brand awareness than Dinewise.
The Cost
One week of weight loss meals came to $285 which included shipping when we did a test order. This included two free meals, which is kind of odd to give two free meals, they should give an extra day free, because really what are you going to do with those two extra meals? This brings your total per day cost to $40. This price is on par with other or may food delivery services, and seems to be the going rate for high quality food delivered to your home. If you're looking for more affordable options consider Bistro MD or Diet-to-Go.
The Commitment
You're never committed to using the services of DineWise, and in fact it's not meant to be a long-term or permanent solution. This can be something that you buy and use when you just don't feel like cooking, and don't want to go out. It can also be used to kickstart a healthy eating plan, whereby you fully eat from the DineWise program, and then make the transition to cooking for yourself after a few weeks or a month.
Evaluation
One thing you'll notice about DineWise is that they're one of the most flexible plans available. They have specially designed meals to help you lose weight, to keep your blood sugar levels stabilized if you're a diabetic, if you just want to eat healthier, if you've been told to lower your sodium intake, if you're a senior, if you want to do the low carb diet, and also specially designed meals for men, backed by the team at Men's Health.
They also let you mix and match different meals so you only pay for things you want and aren't just sent standard packages. You can literally create an entire weeks worth of meals with their drop-down interface in a matter of minutes. That beats having to come up with new meal ideas, go shopping, lug all the food inside, put it away, prepare it when you're hungry, cook it, eat it, and finally clean up the mess.
Sorry Vegetarians
One area they seem to fall short in is a Vegetarian meal plan. All of their entrees contain meat, so it's just about impossible for a vegetarian to take advantage of their service. One reason for this is likely because they rely heavily on Colorado Prime meats, a subsidiary or partner, and this is why you'll find meat heavily involved in their main dishes. Many of their side dishes looked pretty amazing, but wouldn't be enough to sustain a vegetarian for long, because they're mostly made of starches like potatoes and rice. Also, they have a pretty good array of vegetable dishes, but again these are not created to the a stand-alone meal, but rather to support a meat-based entrée.
Final DineWise Review
DineWise has been repeatedly praised for how well the food tastes for being diet delivery fare. For the price they charge they had better deliver a high quality product. Basically at this price point they are not competing with other diet food delivery programs, they're competing with going out to dinner at a four-star restaurant. With the huge selection of different foods, and the way they cater to the many different goals people might have, they've earned our Thumbs up review.
Our Recommendation
If the prices and through off, should give DineWise a try and see how well you like their food. While we don't really recommend eating prepared foods as her only food, it is nice to have a backup option ready to go whenever you don't feel like cooking. Also, it can be a good way to teach yourself about healthy portions, and also what kind of ingredients go into a healthy meal. This way you will be able to prepare better meals yourself and won't be dependent on a delivery service long-term.
What do you think? Does DineWise work or not?