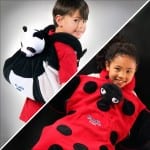 If your kid likes backpacks, stuffed animals, and blankets – and what kid doesn't – the makers of BlanKid Buddy have something for you. They found a way to combine these three into one unit that your kid can play with, sleep with, and get some use out of.
Overview
Kid's products like these are heavily promoted on TV and the Internet, and it seems like everyone wants to have the next big hit like beanie babies. They make cute, cuddly, even adorable stuffed pets for kids to enjoy and give them names and everything. BlanKid Buddy is just one of a number of children's products that try to make a multi-use toy that serves multiple functions.
The Claim
BlanKid Buddy's major claim is that your kid can play with the stuffed animal, relax with the blanket and pillow, or use it as a backpack and take it to school or on a play date with their friends.
Because of the design, blanket buddy can be used in all sorts of different situations. They can help when your child has to travel, because it packs up their gear and also provides a blanket for them once they're in the car or on an airplane. The blanket secures around the back of their neck so it stays in place and provides support for their head. It also comes undone easily when needed.
In case you are wondering whether or not the inside of the backpack will become messy when putting things inside of it, it includes a water resistant lining that can be removed. This keeps the BlanKid Buddy clean, and also adds to its usefulness because you could put most anything into it without worrying if it's going to harm the plush toy.
The many uses of BlanKid Buddy:

The Hype
The hype, much like many products of this nature, comes in the form of a catchy jingle and a commercial showing kids having an amazingly fun time. It creates a picture that your child will also have a lot of fun and good times playing with their BlanKid Buddy. It's hard to determine whether or not a kid could have this much fun with something as simple as a backpack/blanket combo. Most likely, they will enjoy it but it won't become the center of their universe.
If it becomes your child's best friend, as is suggested in the jingle, you may have more serious matters to deal with later in life.
The Cost
The BlanKid Buddy is $30 if you order one, and $20 for each additional one that you purchase. The $30 consists of the $20 product plus $10 shipping and handling. In a refreshing change they don't charge extra shipping for additional orders. Rather, you pay for the product and they cover the extra shipping. This is how it should be, instead of those bogus buy one get one free just pay shipping offers.
The Commitment
There isn't much commitment involved other than handing it over to your kid. There's no telling what will happen when your child gets it, but you shouldn't have to bother with it too much after you show them how to use it. Of course if they use it a lot you'll want to wash it occasionally to keep it clean.
Evaluation
BlanKid Buddy is well-designed and has a unique concept. You can get either a monkey, panda, or ladybug, each are equally cute making them easy to love and have around the house. The front has a small pocket to put things in, and behind the head is where the backpack is. It has a Velcro clasp on it so it's easy to use for all ages and holds a decent amount of stuff, not a lot of course, but enough.
In order to turn it into a backpack the arms and feet of the animal in question clasp together, also with Velcro, and this forms the arm straps.
Final BlanKid Buddy Review
You know your child best. If BlanKid Buddy looks like something that they would enjoy you're probably right. From the testing we've seen the quality of the manufacturing holds up to repeated use, and kids seem to enjoy it. There's not much to dislike about it, they're cute and soft, and actually useful when you put things in it as a backpack.
We're not sure if your child will bond with the toy, because they aren't exactly like a traditional stuffed animal and they don't completely resemble the animal they're supposed to look like, but it might get them used to the idea of having a backpack so they'll be ready by the time they start school.
Our Recommendation
We recommend picking up a BlanKid Buddy if your child is five and under. The bright colors, soft material, and multiple functions all combine to make this a solid purchase. They can help with naptime, and comes in handy for long car trips, and overnight stays at friend's houses.
What do you think? Does BlanKid Buddy work or not?