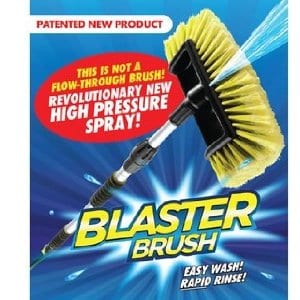 The Blaster Brush combines a pressure washer with a brush so you get a powerful burst of water and the scouring action of a brush. They say this is a dynamo at cleaning cars, which would be nice when you don't want to spend a beautifully sunny Saturday cleaning you car, or if you are running a car wash for charity. But how well does it really work at creating a pressurized spray and getting things clean?
Overview
There are some companies out there that make their living simply by pressure washing windows, decks, and other items around the home and outside. Most people don't invest in having a pressurized sprayer, and are willing to pay someone else to come out and get the job done. Maybe the sprayer brush won't equal the power that the pros bring, but if it comes close it will enable you to do a lot more than what you can do without it.
The Claim
The makers of Blaster Brush say that the major benefit to their product is that there's no bending or stretching involved in getting things clean. You don't have have to get your hands dirty because the brush does the work and you stay a good three feet from the job. There's also no wet clothing to deal with because you keep your distance and let the power of the water do the hard part.
In addition they say that the bristles it uses are totally save and won't scratch up your car, boat, or windows. For the environmentally conscious out there this is something that will help you use less water since it's so pressurized. On a final note, they say that you'll be able to get a professional grade car wash in under 10 minutes.
The Hype
The big hype to this is that most products like it are either one or the other. There are other products that are simply a pressure washer and don't contain a hose, and there are others that are just a cleaning brush and don't have the pressurization this does. This is one of the only products available that combines both into one product.
The Cost
You can find the Blaster Brush for around $30 plus shipping and handling which can range between $7 and $9. When you consider the cost savings of washing your own car, plus being able to get jobs done around the home without having to call a professional company to do the job, it doesn't sound like such a bad deal.
The Commitment
Even though this is designed to make cleaning faster and easier, you'll still have to be the one out there doing the actual work. While this may sound obvious, there are a lot of people that likely have this product tucked away in a corner of their garage, barely used, because it just doesn't make it easy enough.
Evaluation
There's a lot to like about the Blaster Brush, because basically if you don't have one it makes a great addition to the home and yard. You can use it to clean all types of vehicles, including boats, campers and RVs, 4x4s and lawnmowers, outdoor furniture and the windows on your house, the driveway and the deck, barbeque grills and bicycles, as well as gross smelly jobs like cleaning out trash cans.
If you've always wanted a pressure washer, this can fill that void, but really it's like an all-in-one car wash kit, being able to spray off all of the dirty and debris easily, and then getting the car nice and clean with the brush. Rinsing off the suds is also easy with it, since you have a precise spray and can power it right off.
Final Blaster Brush Review
We're giving the Blaster Brush our Thumbs Up review based on the positive feedback we've found on it, and also because of the way they've combined two helpful products into one. You're really limited only by how many ways you can figure out how to use this, as most anything can be cleaned up with a high power sprayer. Some have said they use it to spray off salt and dirt from the underbody of their cars, while others say it's able to clean second story windows without having to climb up anything.
Our Recommendation
This is a great tool to have around, and we recommend getting one if you don't have anything like it already. It can save you from a lot of elbow grease and can turn hard, messy jobs into easy ones. It is especially made for car washes and aside from saving you the money from taking your car to the car wash, it can help you use less water when you wash it yourself, and can save you time by speeding up the process.
What do you think? Does Blaster Brush work or not?