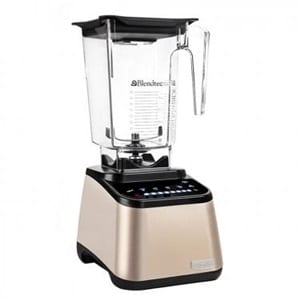 When it comes to choosing any type of small kitchen appliance it can be a real challenge, and especially if its a blender because these are real gems in the kitchen if you get the right one So that brings us to helping you decide whether the Blendtec Wildside Blender is the one you should be looking for.
Overview
This blender seems to pack a lot of power in more ways than one. It has every option for the different types of food processing that you probably will want. Then it has a very impressive look to it which is a real plus because its attractive enough that you are not going to want to hide it away when not using it. Then one of the most important additional features is the way it can be easily cleaned which is always a point of contention when it comes to blenders.
The Claim
The company claims that this unit makes the easy touch operation a breeze with its clear to see light up icons. They state that it is loaded with versatility and functionality.What they really like to point out is how you are in total control of the speed with its power slider that really lets you fine tune your blending.
The Hype
A Company such as Blendtec that seems to go the extra mile when producing their products is not going to fall short on what a consumer both needs and wants when it comes to this type of small kitchen appliance. They know that anything that is going to be used in the kitchen has to be easy to learn and operate. By pointing out the key points about this unit they have made it very clear that they are able to meet the needs. Then when it comes to the wants, which doesn't really affect the functionality of the product, they have covered this as well with all the right hype. It is very attractive which most homeowners want when it comes to kitchen items, and it is easy to use according to the promotional material which is a big "want" because it means its a time saver.
The Cost
Buying the Blendtec Wildside Blender directly from the Blender's site means its going to cost you about $500. Now before you panic about paying this amount of money because it is a substantial investment, consider a few things first. You will want to compare all that it has to offer with lesser priced units from other providers and see if the differences justify the additional cost. Also think about replacement costs.
The Commitment
One of the biggest weaknesses that many kitchen enthusiasts face is not taking the time to learn and utilize all of the features and benefits that their kitchen appliances are capable of. This is partly because it does take some time to do this. When you purchase this item make up your mind even before it arrives, that you are going to commit to reading the book and instructions that come with it. Plus, have some fun and experiment with all its features and functions before you have to use it for meal preparation. This way you are not going to be under the stress of using a new item, and you are going to feel a lot more confident about your investment.
Evaluation
We really wanted to be thorough here with our opinion about the Blendtec Wildside Blender simply because there are so many different types and versions on the market and admittedly at a lesser price. We immediately discovered that this item gets some very impressive consumer ratings. While reviewing a lot of these we learned even more from the actual users than from the very detailed promotional and marketing material. We found that a lot of people loved using it as a juicer and for more smoothies so they weren't having to buy a separate appliance for this. Another interesting factor was being able to work with wet or dry ingredients without having to do a lot of switching of additional components. We have always found that kitchen appliances such as these are of a keen interest so we have done a fair number of kitchen blender reviews in the past that you may find interesting.
Final Blendtec Wildside Blender Review
As with all of our reviews we begin them with an open mind and throughout the review process take many things into consideration which induces the provider's marketing material, promos, price and quality. Then we consider the feedback from and consumers, and then we look at similar items for comparison. In the case of this particular Blendtec Wildside model we are compelled to give it a solid Thumbs Up rating. While it fared well in our different areas of critiquing it, we simply were totally convinced on it's merit by the large number of comments by users of the product and that they were so versatile. We also found that a lot of those that had purchased the Wildside had also considered the Vitamix brand which is comparable in price, but their ultimate choice was the Blendtec.
Our Recommendation
If you really feel that you can commit to learning and using all that the Blendtec Wildside has to offer then you should give it some serious consideration. When thinking about this type of small appliance investment do so with a fresh start. Don't think back to other types of food blending apparatuses that you may have used in the past and they failed you.
Official Website: Blendtec
What do you think? Does the Blendtec Wildside Blender work or not?