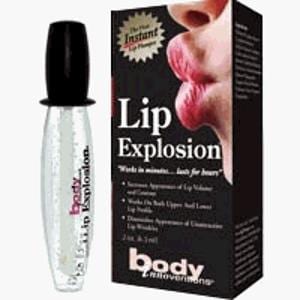 If you've been searching for a cosmetic product that will give you instant lip volume, look no further because Body Innoventions Lip Explosion might just be what you're looking for. This unique serum is said to improve the appearance of your lips in terms of color, fullness, and shape immediately after application. We took it upon ourselves to examine this newly released lip enhancer and see what real consumers really thought about the product.
Overview
With all the recent advancements in the cosmetic surgery industry, more and more women are resorting to invasive and risky procedures such as aesthetic work to get the lips of their dreams. But, if you really think about it, these women only choose to go under the knife because there aren't any other options deemed safer and more effective. Body Innoventions Lip Explosion utilizes the latest research in lip care and has provided women all around the world a more suitable way to obtain a fuller pair of lips.
The Claim
Those who have tried and tested an array of lip enhancing products know all too well that a side effect of lip volumizers is that tingly sensation you experience after applying the product to your lips. Body Innoventions Lip Explosion is said to be the first non-burning lip plumper available on the market. The company also claims that their product will give you results within minutes, and the effects will last for hours. Now, you can get that naturally pouty pair of lips you've always wanted with a simple product such as this.
The Cost
Body Innoventions Lip Explosion comes in a distinctive 3.5ml tube and sells for roughly $10 online. Their official website advertises the product, and you'll have to contact their toll-free number if you would like to place an order. One tube is enough for 30 applications, so it'll more or less cover you for a whole month.
The Commitment
In order to attain fuller lips, Body Innoventions suggests you apply the product on your lips at least twice a day. Depending on your mood, you may either use less or more, but 3 times a day is the recommended maximum use. Because the effects are said to last for hours, you won't have to go through the trouble of constantly applying the product. If you feel like the results will fade before your little socializing stint ends, just make sure you pop the tube in your purse before you head out, so you can touch up later in the day – or night.
Evaluation
We found that many consumers of this product highly recommend Body Innoventions Lip Explosion. The majority of the women were satisfied with the product's lip enhancing action, claiming that the product does exactly what it states it would do in their advertisements.
An advantage Body Innoventions Lip Explosion has over other brand name lip enhancers is its price and ease of use. There are lip plumping products that can sell for as much as $100 which is absolutely unreasonable for a small tube of gloss. Body Innoventions Lip Explosion is more on the affordable side allowing just about anyone to get their hands on it.
Unlike most of the other lip enhancers, you may use Body Innoventions Lip Explosion with other lip products like lipstick and lip balm. This product alone should provide you with ample moisture to nourish your lips while also giving it color, fullness and shape. All you have to do is dab off some of the extra product on your lips before applying anything else.
Products like these also come along with some negative feedback, of course. There were women who actually didn't even notice the slightest of improvements after applying Body Innoventions Lip Explosion on their smackers. This is the case with just about any product on the market, some people just won't respond to it.
Final Body Innoventions Lip Explosion Review
Body Innoventions Lip Explosion may or may not be effective on you as opposed to other women, so it wouldn't hurt to give it a shot. You'll never know if it'll be one of those beauty products you use forever unless you try it yourself. If you order directly from Body Innoventions' website, you will be able to take advantage of their 30 day money back guarantee, with no questions asked, therefore you have nothing to lose.
Our Recommendation
For what it's worth, it seems like a pretty dependable and effective lip plumper. We're suggesting you try it, and we also suggest doing a comparison test of your own between the leading brands. We've also favorably reviewed Idol Lips, and LipFusion XL, so have fun with these three and see which one you prefer. That can then be your go-to limp plumper and thin, dull lips will be a thing of the past.
What do you think? Does Body Innoventions Lip Explosion work or not?