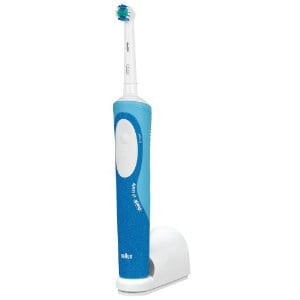 Most of us are familiar with the Oral-B brand, but does their reputation transfer to the Oral-B electric toothbrush? Backed by the power of Braun, Oral-B powered toothbrushes have carved out a nice piece of the electric toothbrush pie. They've got a rather unique design, with a circular head instead of the typical rectangular head. We decided to put these to the test to see what people really think about them.
Overview
Oral-B has long been known to produce some of the best manual toothbrushes around, and many dentists recommend them over other brands like Crest or Colgate. They positioned themselves as somewhat of a premium toothbrush, costing a little more but doing a better job of cleaning your teeth. They also did a good job of taking a big amount of the market share when it comes to electric toothbrushes. They do this by providing a lot of quality across several different products so that just about anyone can afford a top-notch electric toothbrush.
What We Like
The Oral-B heads are round for a reason. A rectangular head has problems getting all around a tooth. With a rounded head you're able to more closely contour all around the tooth, and when you factor in the automatic rotating action, it's mimicking pretty closely a dentist's instrument. We also like there's lots of different price points, so you can go with one that suits your budget. It's rechargeable, so you're not hurting the earth by constantly replacing its batteries.
What We Don't Like
Sometimes the base doesn't line up perfectly with the charging unit, causing it to be a bit fussy when it comes to charging.
The Cost
This is where the Oral-B electric toothbrush line really shines, because you can simply choose a model that is priced right for you. They have one available at $30 and it goes all the way up to over $100 for their most advanced model. Most people seem to buy the ones in the $50 to $60 range, as a happy medium.
The Commitment
All that's really required from you is to replace your old manual toothbrush with this new futuristic toothbrush. We might not have flying cars and jet packs, but at least we don't have to strain our wrists to brush our teeth any more.
Evaluation
There are so many different Oral-B electric toothbrush models that we had to narrow it down to just these three. Our research shows that no matter which model you go with, it should live up to your expectations, however, these three in particular stood out above the rest.
Oral-B Vitality Prowhite
This one comes in at a pretty low price point, but does everything it's supposed to do and even has enhancements to help remove surface stains from your teeth. One feature that most people enjoy is the 2 minute timer. It's the recommended amount of time you should spend brushing your teeth, and
Oral-B Professional Care 1000
This is one of their most popular models because it's professional grade, but not overly complicated. It's only got one setting, so you can't screw things up here. This is a good way to get really clean teeth without having to spend too much time wondering how it works. They say that it's twice as effective at removing plaque than manual brushing.
Oral-B Professional Care 3000
If you're feeling like George Jefferson and want to move on up, you can upgrade to the 3000 model for a little extra money, and a few more features. This brush actually lights up when you're brushing too hard. Putting too much pressure on your brush is the number one problem people have in regards to getting it wrong while brushing. Many dentists have to let their patients know that they're brushing too hard, because they can see the evidence on the teeth.
Oral B Pulsonic
This is the model that is meant to give the Sonicare line a run for its money. At a much smaller price, it's not hard to see why many people would be willing to give this one a try before investing in a Sonicare model. It's hard to say if it's really using sonic waves to blast the plaque from your teeth, or if it's just vibrating at a higher level, which leads to better results. Either way it's a win!
There are special heads that you can get with any of these types, which allow you to switch between a flossing head, a precision cleaner, and a dual action head. Pretty cool stuff.
Final Oral-B Electric Toothbrush Review
The Oral-B Electric Toothbrush line is getting our overall seal of approval. It doesn't seem to matter which one you go with, they're all well reviewed and should give you lots of use before having to get replaced. They all come with their own replacement heads, so you can replace your brush without having to replace the entire unit. Any piece of electric equipment will eventually break down and have to be replaced, so keep that in mind, it's not as if it comes with a lifetime guarantee.
Our Recommendation
Out of all of the models you can get, the Pulsonic seems to make the most sense. It is priced right and is supposed to give you the sonic action you get from other electronic toothbrushes that can cost twice as much or more. Although if you're not into a sonic powered brush, you can always just go with their lower-priced model. You'll still get all of the basic features, and a quality product.

What do you think? Does the Oral-B Electric Toothbrush work or not?