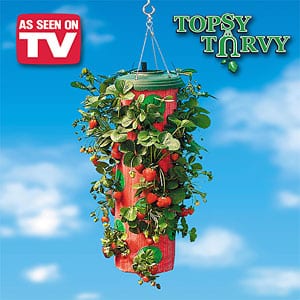 If you like to grow and tend tomatoes, but don't have the space to do it, the Topsy Turvy Tomato Tree might be just the product you need. The structure of the Tomato Tree is quite unique — an upside down planter that supposedly yields more ripened tomatoes without the hassle that comes along with gardening. What does the Topsy Turvy Tomato have that the old-school method of gardening doesn't provide? Well, we just had to find out.
Overview
Growing your own produce from the comfort of your backyard is a well-known pastime in the US. Gardening hasn't just become a hobby, but also a good way of relieving stress. Each morning, millions of green thumbs tend to their patches and individual gardens in hopes of harvesting high quality fruits and vegetables. Not everyone is blessed with a yard big enough to accommodate their plants, therefore the thought of using fresh fruits and vegetables grown in your own yard gets tossed out as a pipe dream. And even if some do have the perfect gardening environment, they lack the time to aptly care for the seeds that they've sown.
The Claim
The website for Tomato Tree claims that the product is fairly easy to use as it doesn't require much work compared to the old ways of gardening. Growing and managing your own tomatoes is expected to be a breeze, and harvesting a piece of cake. Out of all the plants you can grow at home, tomatoes are relatively easy, so these claims are not too outrageous.
The Cost
The Topsy Turvy Tomato Tree is being offered at a price of $39.90. This however does not include processing and handling which is $19.95, so that's basically $60. There is a current promotion going on where if you buy one Tomato Tree today, you can get another one for free.
The Commitment
If you don't know much about gardening, then you have no idea the amount of dedication that is needed in order to successfully harvest your own crops. Your responsibilities don't end after planting the seeds, making sure your plants are getting enough water can be a demanding task on its own. Although the Topsy Turvy Tomato Tree is constructed in a way that makes the job of watering not so challenging, the demands of having to water several times a day must be met, or your plants stand the chance of dying.
Evaluation
When you purchase the Topsy Turvy Tomato Tree, you receive all the required material to assemble the planter as well as a recipe book of simple tomato dishes you could whip up once you've harvested your tomatoes. It does seem like a pretty incredible invention for gardeners around the country, but does it really work? Based on consumer feedback, it looks like their experiences didn't turn out so well.
For the most part, the product has the right concept however it doesn't follow through with proper execution. Consumers complained about their tomatoes not fully ripening, but already at the point of rotting. This is a big disappointment as the Topsy Turvy Tomato Tree claims that a high yield of quality tomatoes would grow without all the hard work associated with gardening.
Others reported that their tomatoes were wilting even if they took it upon themselves to water the planter more than once a day. It seems like the product wasn't designed well enough to hold in water for the soil to absorb.
After the first harvest and within a few months for some, many complained the bag responsible for holding the tomato plants tore and/or crumbled apart. The worst part is there is no replacement bag you can purchase, so once it breaks the only thing for you to do is pack it up and either store it in the shed or throw it out. Unfortunately, this is a flaw that the makers of the Topsy Turvy Tomato Tree will have to look into if they want to improve their product and grow their sales.
The great thing about this product is its flexibility to grow other plants, fruits and vegetables other than your regular old tomato. Just because the tomatoes didn't seem to sprout full circle, other produce may grow better when using the Topsy Turvy Tomato Tree.
Final Topsy Turvy Tomato Tree Review
It's alarming how many consumers were unsuccessful in growing their own tomatoes at home using the Topsy Turvy Tomato Tree. Based on their feedback, we'd have to say that this product doesn't seem to work, although it's a really neat idea. You may have better luck with it than most, if you know a lot about growing plants and have a schedule conducive to keeping up with it. Perhaps it's just the set and forget approach that doesn't work like they say it would.
Our Recommendation
Save your $60 and spend it on a nice spaghetti dinner instead. That's the best way to guarantee that you'll get a nice tomato-based meal out of the deal.
What do you think? Does Topsy Turvy Tomato Tree work or not?