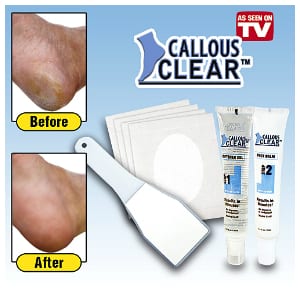 Callous Clear, yes it really should be Callus Clear, says it can be used to remove all of the callused skin on the bottom of your feet, revealing the baby-soft and smooth skin underneath. It has a pretty convincing promo ad to it, but we all know those can be misleading. So how well does this live up to its on-screen performance?
Overview
Feet often get neglected, and before you know it an easy problem to fix turns into a big problem that can be hard to undo. When you have big calluses on your feet they can be tricky to remove completely without harming the sensitive skin underneath. A skilled spa technician can use a file to shave off the rough bits, but they need to know when to stop in order to avoid hurting you.
The Claim
The creators of Callous Clear say that you'll be able to achieve the same sort of results that you get from a spa treatment on your feet by using the product.
The Appeal
Rough, calloused feet are a pretty common problem, and when you want to wear open footwear like sandals and heels you run into the problem of having to show off these rough, cracked heels. One solution is to get a pedicure, but those can be expensive. So this product would appeal to the budget conscious, as well as those that want a quick and reliable solution if this happens repeatedly.
The Cost
It's $17 for a Callous Clear kit, which includes shipping. They give you the option of upgrading to and getting a second one for $7 with free shipping, for a total of $24. There's also the chance to get a $15 coupon if you want to try other As Seen on TV products, but we couldn't figure out how you qualify for it. No matter which way you go you'll get the heel balm to apply to your feet once you're done, and the scraper/file.
The Commitment
The best part of this is that you don't have to do a lot of work to get your feet looking good. With products like the Ped Egg you have to use quite a bit of elbow grease in order to get through the tough spots. In theory this should save you time and effort, but only if it works as depicted in the ad.
Evaluation
The big draw to Callous Clear is that you can get rid of all of your calluses all at once, as it does the entire foot instead of focusing on each callus individually. The kit does include all that you'll need in order to complete the job, including a scraper that is meant to scrape the skin off your feet once it is loosened up. The alternative is using a foot file to slough off the old skin and get to the nice stuff underneath, but being savvy enough to know when to stop. We were really hoping this would be a success when used in the real world.
But more than a few users have said that it ended up burning their feet, while others said it didn't really have any effect at all. We were not able to find anyone that said it worked as shown in the infomercial, and many people chimed in that there are ways to get the same effect at home on your own using simple ingredients that are cheaper and easy to find. It may still be worth a try, but you should be prepared to wait a considerable amount of time to receive it, which might not be acceptable if you currently have rough feet and want the problem gone soon.
Final Callous Clear Review
With most of the feedback on Callous Clear being negative, we're giving this our Thumbs Down rating and suggest that you go with better-reviewed products to get your feet back to normal. We have featured a page showcasing the different solutions for your feet, as well as some good and bad foot creams. When you combine these two approaches, taking the calluses off and softening the skin with a cream, you end up with feet that look like they just had a pedicure.
We'll keep looking for the perfect way to get your feet looking tip-top.
Our Recommendation
Because of the anecdotal stories of those burning their feet with this, we going to have to recommend against it. The nice thing about callused feet, if there is one, is that once you get the problem under control it's easy enough to stay on top of things. The best way to go about this is to file them down using either a foot file or a grater style device, and then applying a high-quality foot cream to soften up the skin and make it smooth.
What do you think? Does Callous Clear work or not?