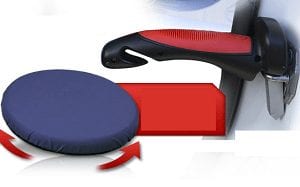 So many people suffer with chronic aches and pains that getting in and out of a vehicle comfortably can be a real hassle.It isn't just seniors who have this problem either. So a product like Car Cane may be an excellent investment to help deal with what can sometimes be a serious problem.
Overview
The Car Cane is a simple device that hooks into the door opening of your vehicle. It then provides a handy grip that can be leaned upon to help anyone that is having difficulty get out of their vehicle. Normally for people having a hard time doing this, they are always trying to find something on the door or side of the car to grip, to give them some leverage. This can be dangerous if their hand slips.
The Claim
The company claims that the Car Cane is extremely sturdy and is made of forged steel, which can withstand up to 350 pounds of weight. When not in use it fits easily into the glove compartment of the vehicle. They say it fits and works for any car type, from SUV's right down to the compact vehicles.
The Hype
The hype focuses on what the Car Cane can possibly prevent from happening. All too often people who have difficulty getting out of their vehicles can have trouble with their footing. If it is snowy or icy or even wet where they are getting out of the vehicle, they can easily slip.The Car Cane at least allows them something to hold their weight while their get their footing adjusted.
The Cost
The cost is $19.95 plus $6.95 shipping for the Car Cane. If you add an extra $6.95 for shipping you get the swivel seat.
The Commitment
You are going to have to train yourself to remember to use this device. You will most likely store in it your glove compartment, and may be tempted not to bother reaching for it. Make it a point to use it faithfully the first few times, and you may soon discover you don't want to get out of your vehicle without it.
Evaluation
Just watching people struggle to get out of their vehicles is a common occurrence, and it is easy to see why a product such of this would be in high demand. If those who had this difficulty were to evaluate it, then they would probably equate it to that of a helping hand. You know where you see someone having a hard time getting them out of the car and you offer your hand to them.? You can feel their weight on you as they use you for leverage. The Car Cane does the exact same thing.
Final Car Cane Review
We're going to give the Car Cane a thumbs up rating. It definitely has a usefulness. It appears to be well made and easy to use. It is reasonably priced. Something else that we really liked was the bonus swivel seat that you can get with your offer. This addresses another issue that a lot of people have at the same time as trying to get out of the vehicle. Just getting turned around to get your feet on the ground can be hard. Being able to swivel to do this could be a real benefit. A lot less stress is placed on the body that is already hurting from some type of chronic condition.
Our Recommendation
There is nothing wrong with using any form of device that is going to help you to stay safe and relieve an unpleasant situation, or help to reduce pain from movement. Another product that we talked about in the past that seems to have been well received is the Hurry Cane.
What do you think? Does the Car Cane work or not?