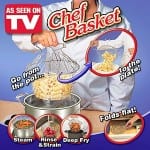 Food is truly pleasing to make, and the Chef Basket hopes to make it even more pleasant. Not only is cooking enjoyable, it is also delicious and nutritious. These are perhaps some of the reasons why many of us really love to cook just about anything anywhere, whether it be outdoors or indoors.
Overview
The colander needs a revamp, no one is arguing with that, but as of yet there hasn't been a product around that can provide a better experience. There are products out there that can store more easily than a big bowl-shaped colander, but they do not strain as well, or they have other flaws. The Chef Basket hopes to not only replace the colander but help you with other aspects of your kitchen duties.
The Claim
The big claim to fame is that this is supposed to be a remarkable combination of deep frier caddy, strainer, and colander. It can help you with just about any task in the kitchen. It can help you in boiling, in par-boiling, in steaming, in frying, blanching and even poaching. Not only that, it can also lay flat so it can take up only a minimal amount of space in any of your cabinets, thus helping you store things more easily.
That's a lot of claims for something that looks like a bunch of wire mesh.
The Hype
The hype comes mostly in the form of how difficult they make it seem to use a colander. Yes, a colander is not a perfect utensil, but it is not the end of the world, and it rarely causes quite as much drama as they show. But they really have to make a villain out of it in order to pump up the features of Chef Basket.
The Cost
You'll just have to burn some $10 form your pocket but hey, it can do the work of utensils that are worth more than $10.
The Commitment
Kitchen products like this are notorious for getting people to buy them only to have them collect dust and get next to no use. It's the dream of being more active in the kitchen, using the device to prepare things with ease that once caused so much trouble.
The Pasta Feature
One of the biggest draws to the Chef Basket is that you can strain pasta in an instant, just like the chefs do on cooking shows on TV. But does it actually work this way?
One hard part of making pasta is getting the pasta out of the hot and boiling water without getting yourself burned by the hot steam or even by the hot handle of the pot you have used.
Now with Chef Basket you will just laugh on how easy it can be done. You just pour the pasta all in the Chef Basket, drop it in the pot of boiling water and wait for the timer to go off. Then pull the Chef Basket out of the pot of boiling water and hang it down over the sink a bit until the remaining water drains and viola! You now have your pasta without going through the trouble of finding and holding the colander since the handle of the Chef Basket is designed to be cool even if the Chef Basket is heated up.
Small sized pasta like elbow macaroni will not work with Chef Basket, and even other types of pasta will fall through its rather large holes. The only type that seems to work the way it's depicted in the ad is rigatoni style.
Evaluation
Take note, it does not only work for pastas but for anything you want to be boiled. This Chef Basket is good for most any cooking involving boiling. Also, it is really easy to wash. If you are washing any food that are hard to wash because they always fall out of your hands, then this is perfect, because it is designed to be an all-out help for the cook or anyone in the kitchen.
Final Chef Basket Review
It's important to remember that this is not a miracle product, and is made with entirely out of metal wires. It may help you with some things in the kitchen, but it will not entirely replace your current colander, and it won't revolutionize the way you cook pasta, the way it claims to. Unless you plan on eating rigatoni pasta for the rest of your life, it struggles with most other types because of its large openings.
On the plus side, some food recipes require a lot of kitchenware that are not really that easy to clean, but with Chef Basket, you should in theory use less utensils and pots. And since Chef Basket is really easy to clean since it does not have any hidden parts, you'll reduce your time spent cleaning up the mess you make cooking.
Our Recommendation
Get a Chef Basket and put it through its paces. Find out what it's good for and what it's not good at, and only use it for the things that it truly helps with. If you buy a product like this knowing beforehand that you'll have to feel it out first, you'll have a better experience with it than if you just expect it to work wonders and then get disappointed.
What do you think? Does Chef Basket work or not?