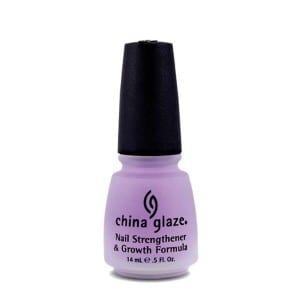 China Glaze Nail Strengthener is brought to you by China Glaze, a nail polish that you may recognize if you've seen it being used at professional salons. We had to answer the question of whether or not it actually works at making nails stronger and healthier.
Overview
If you tend to suffer from nails that break and chip you're likely looking for a way to help them grow in as healthy as they can. This is the goal of many women, but using a product that adds a lot of bulk and tries to strengthen the nails artificially can make matters worse. This strengthener by China Glaze uses a more natural way of infusing the nails with what they need.
The Claim
The main claim of China Glaze Nail Strengthener is that it infuses the nails with vitamins and minerals that help it grow healthy and strong. They say that all that you need to do is apply two coats of this every other day for a total of 4 weeks, so it's more of a nail strengthening system than a one-off treatment.
The Deal
This product is designed not only to make your nails look better, but also to save you time and money. When everyone seems to be trying to make their dollars stretch that's a pretty good combination, and one that many manufacturers are using in order to make a sale. If a product looks like a good deal, or can help prolong a service, it makes it easier to justify the sale.
The Cost
China Glaze Nail Strengthener can be found for $10 for a 14ml bottle. This is definitely a reasonable price, and is less expensive than some of the other nail strengthening products that are out there. When you consider that our nails are often overlooked and taken for granted, this is something that is easy to apply and won't break the bank in terms of cost.
The Commitment
By extending the life of your nails and the polish job they got, they are reducing the number of times you'll have to get them done, which represents not only a cost savings but also a time savings. Not to mention that you won't have to worry so much about your nails and how they're doing, or whether or not a certain situation is going to cause them to break or chip. You'll have to make sure that your nails clean are free of any polishes.
Evaluation
In order for China Glaze Nail Strengthener to be considered a success, it would have to nourish your nails and keep them looking good, as well as toughen them up so that they can handle different daily tasks. A set of healthy, strong, and beautiful nails opens up several opportunities for different styles and the use of different polishes. Users are saying that it's easy enough to use, and that it dries quickly so you don't have to spend a lot of time waiting around for it to dry. They also say that it does a good job of not irritating the surrounding areas, and that it applies smoothly.
One of the big draws to this nail strengthener is that it lasts a long time, and this is backed up by several users that were impressed with how long it was able to make their nails last. Of course there were some users that expected it to last a bit longer, but those might have been unreasonable expectations.
Four weeks is a long time to have to use a strengthener like this, and it might be more of a commitment than some are willing to make. You only have to use it every other day, but this might make it easy to forget, and easy to lose track of whether or not today is a day you need to use it. This might trip up some users and make it so the product doesn't get rated as highly as it otherwise should.
Final China Glaze Nail Strengthener Review
Overall, China Glaze Nail Strengthener is getting our Solid Try rating based on user reaction, and also on the reputation that China Glaze has built for itself. This is a company that is making professional grade products and making them accessible to anyone. This means that in some instances you're able to circumvent having to go to the salon to give yourself a healthy nail treatment.
Our Recommendation
This is one way to make sure that your nails are getting what they need in terms of nourishment, and if you're planning on getting manicure or acrylic nails applied it's always a good idea to make sure that your own nails are in the best shape they can be. You have to have a bit of foresight though, as it's going to require 4 weeks of regular applications to see the best results.
What do you think? Does China Glaze Nail Strengthener work or not?