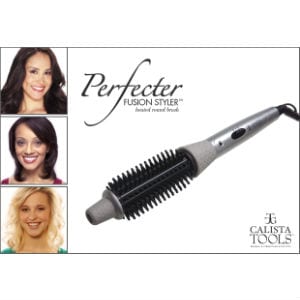 The Perfecter Styler is billed as a the perfect styling tool that is able to replace a bundle of different stylers. We had to see if it was worth the price, and worth giving a try, and came to our own conclusion.
Overview
If you find that you're constantly switching between different styling tools to get various jobs done and create the look you want, you may have wondered if there were a better way. There is obviously a need for a product that actually works in this regard, since so many women have voiced their frustration when it comes to getting hair that looks good.
The Claim
The makers of Perfecter Styler say that you'll be able to detangle your hair using the detangling function. They say you'll be able to use both of your hands to style your hair, rather than having them both tied up while using it. They say you'll no longer need to use a curling iron, a straightener, a round brush, or a hair dryer. They say this works using ions that are generated during the heating process. They say you can guide it with your other hand and not worry about getting burned.
They say that this was created by Marcia McCool, and that she has been a stylist for over 25 years.
The Hype
Our hair is one of those features that gets a lot of attention, and can really make or break your overall look. That's why it's such a big industry and many products carry with them a bit of hype by promising a certain look, or less hassle getting that certain look. The stakes are raised for those that have hair that simply doesn't listen to what it's told to do, because that feeling of frustration can lead to impulse purchases due to a desperation to calm the hair down and make it look more normal.
The Cost
The Perfecter Styler is $100, and they break it up into 3 payments of $33. Many hair styling products clock in at $30 to $50 so there is a bit of a premium price for this. They attempt to justify it by saying that you're really getting several products in one, but that's up to you to decide if the numbers work. There is a 30 day money back guarantee in place, so it's possible to try it out and see what a difference it makes before committing to a final purchase.
The Commitment
Not having to use multiple hair styling products to get the style you want is big, and can represent both time and cost savings. If you take an inventory of how long it typically takes you to get your hair ready in the morning, you may notice a sharp decrease in the amount of minutes spent getting ready. That can help make a hectic morning more manageable, and allow you more time to spend on other areas, or just feel more relaxed.
Evaluation
The main feature of the Perfecter Styler is that it's uses heat added to a round brush that performs multiple functions at once. It's adding volume, as well as body and shine so it takes unruly hair that tends to be frizzy and out of control, and brings it back to Earth. It's designed in a way that is safer than many other stylers out there. It has nylon tips that keep the heating element off of your scalp and away from your skin so you don't get burned. If you've burned your hands and fingers before on a hot styler you will no doubt find this to be its most attractive feature.
There are a few handy features on this device, it allows you to switch between different heat levels, so you can choose what works best for you hair, or switch it depending on what you're trying to do with your hair. The barrel of it is made out of ceramic materials, so it shouldn't burn or scorch your hair, but rather serve to make it more smooth. The light that's included on it is helpful, as it will signal to you when it's heating up, as well as when it's ready for use. No more guesswork.
Final Perfecter Styler Review
The Perfecter Styler is getting our Solid Try rating, as it has shown to be helpful to many women across the country, and is priced in a way that is makes sense from a consumer standpoint. They let you easily opt out of all of their available options, so if you choose the payment plan and forego all upgrades you only pay $33.33 to get it sent to your home. If you return it within the first 30 days – ample time to evaluate it – you're only out return shipping costs. If you keep it it's just two more payments of $33.33 and you'll know that it's worth it.
Our Recommendation
If you currently use a range of different styling tools to help tame your hair, it's recommended to give this a try to see if you can possibly get it down to one. We always like it when a manufacturer sets the ordering system up so that it basically begs you to try it. They're pretty confident that you'll end up keeping it so they can get their remaining $67, and 30 days is plenty of time to try it out several times and see if it lives up to your expectations.
What do you think? Does the Perfecter Styler work or not?