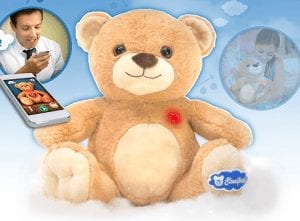 While stuffed teddys' will always have a special place in the hearts of the little ones and many big people too! the CloudPets Teddy opens up a whole new world of interaction for almost any age group.
Overview
While at first glance the CloudPets Teddy may just appear like an adorable stuffed bear, you are sure to see a look of pure pleasure and surprise on the one who receives this toy as a gift. It really is based on modern technology. It allows an individual to utilize an app to send a message to the bear, and as well allows the young one in ownership of the bear to send a message back. It is clear that this little bear is sure to win the approval of both the recipient and those who wish to send greetings to it to be passed along to its owner.
The Claim
The Company claims that using this product is really easy and simple both for the one having the bear, and the download and use of the app. They say it is the perfect way of sending a message of love.
The Hype
No hype is really needed when the marketing message presents a clear and adorable way of being able to send messages to kids. Just the cute cuddly bear itself draws the love and attention of the little ones. Parents love the concept of being able to send brief messages to the kids through such a intriguing device.
The Cost
The CloudPets Teddy can be yours for $39. which includes the shipping fee. A special offer for free shipping applies to those who are active in the armed forces.
The Commitment
First you are going to have to download the app (its free) so you will be able to send messages to a cloud server which in turn delivers the message to the Teddy. The Teddy's heart will light up when there is a message waiting. All one has to do to hear the message is squeeze the bear's hand. The item does require 3 (AA) batteries, so this will have to be replaced periodically. The other very important thing to remember is that the bear has to be within a 30 foot range of a smart device phone or tablet.
Evaluation
In today's modern world there are a number of ways to be able to send messages, but if you are really looking for a fun and unique way to do this then maybe the CloudPets Teddy would be wonderful. You may want to download the app first and see if this is really to your liking. There are safety features built into the product as to who can send messages, and the holder of the bear can only send messages back in response to the last message they received.
Final CloudPets Teddy Review
We are going to give the CloudPets Teddy a thumbs up rating. While we are all aware that we can simply send messages to our little ones through video chat, it is still kind of nice to mix a well loved type of toy into the mix, instead of it all being based on pure technology. It does take a little tech knowledge to get things up and running, but no doubt most people will be able to figure it out. If you are going to set it up so grandparents for example can send little messages to the kids, you may want to help them set up the app. to get it working right. It is well known that stuffed animals of almost every kind capture the love of the youngster and when they can interact with them some way its a real pleasure. A good example of this is the Dream Team Pets.
Our Recommendation
As you can guess this Teddy is comprised of electronics so you are not going to be able to toss it into the washer to clean it. You may want to reserve this bear for those special times when a little one will want to hear a message the most. Perhaps in the morning when Mom has had to go off to work and wants to say good morning before the young ones head out to school. Or maybe Dad has to be away on a business trip and having the Teddy deliver a message will just help the young one accept this absence a little more. If you aren't sure whether a talking stuffed animal such as this would be well received by the little one you are thinking of giving it to, then check out just how popular this line of toys really are, and they're ones that aren't personalized!
What do you think? Does CloudPets Teddy work or not?