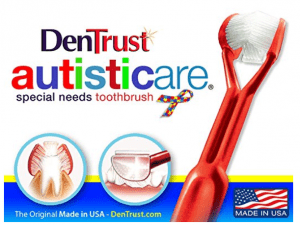 Raising and caring for children with autism can create a lot of extra challenges and some that require some innovative thinking. For example, trying to get some young ones with autism to brush their teeth is a big battle. For help it may come in the form of the DenTrust Autisticare Toothbrush.
Overview
The DenTrust Autisticare Toothbrush is a special needs toothbrush. It has been designed for any youngster that may be facing a variety of different issues when it comes to their oral care. It is uniquely shaped as a three sided tootbrush. Autism comes in many different forms, and there are certainly plenty of other reasons why kids balk at brushing their teeth. This DenTrust Autisticare Toothbrush can be used by any young one.
The Claim
The promoters of DenTrust Autisticare Toothbrush claim that good teeth cleaning is much easier because of the style of the brush.Also because the kids seem to be so interested in the brush they want to keep brushing
The Hype
The hype is in being able to get children who have difficulty with tasks like teeth cleaning to be more receptive to it.
The Cost
The cost for the DenTrust Autisticare Toothbrush is $10.99
The Commitment
The commitment will probably come at first when trying to introduce the DenTrust Autisticare Toothbrush to the young one.Many of these young ones are so active at first it is hard to get their attention. But once you do then you should find that they are willing to give it a try and really take to it.
Evaluation
There are several different benefits that come with the DenTrust Autisticare Toothbrush that helps to make it appealing to the kids. There can be variety with the bristles. For kids that like a firm feel the brush should be wet with cold water. Children that react better to a soft feel will get this when the brush is moistened with warm water. The ergonomics of the brush allow the kids to handle it better and they feel more independent. With it being a three sided brush they are getting a better cleansing especially if they aren't able to focus on their toothbrushing for too long.
Final DenTrust Autisticare Toothbrush Review
We are going to give the DenTrust Autisticare Toothbrush a thumbs up. It is proven on the market and has some good feedback. Out of 469 reviews it has received a four start rating. When you compare this along with the quality and the price it is a great investment and one well worth trying
Our Recommendation
Many parents find that with children with special needs there are various types of specialty products that they need. Some kids have difficulty sleeping and the Dream Away Weighted Blanket might help with this.
What do you think? DenTrust Autisticare Toothbrush work or not?
[kkstarratings_custom_footer]