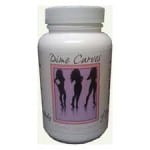 A "dime piece" is that perfect 10 woman that has everything going on, and Dime Curves promises to help get you there. Aimed at increasing the size of your breasts and booty, this latest wonder pill has been quietly gaining a buzz.
Overview
Hip Hop videos and gossip magazines seem to have shifted the focus to a woman's hourglass shape, and taken it to extremes. Jennifer Lopez first brought big booties into the mainstream consciousness and started the trend still going on today. Other celebrities like Ice T's wife Coco, and Kim Kardashian have kept the booty on the radar of many American men.
The Claim
Take a pill once a day and you'll be on your way to reshaping your body in 9 months. The pill specifically targets both the breasts and the booty, making the claim doubly dubious. No known herb or mix of herbs would be able to artificially make these regions bigger. And since the FDA won't step in to evaluate products of this nature, you have to use your reason and intellect to think your way through.
The Hype
There aren't any late night infomercials promoting Dime Curves, and it seems to be gaining popularity using grassroots methods such as self promotion and YouTube videos. There doesn't seem to be an affiliate program, which is a benefit for the consumer because it means you won't have to wade through hundreds of phony review sites claiming that it works, and conveniently providing an order button.
The Cost
The recommended 9-month supply will set you back just over $500. This offers only a mild savings over the one-month supply being offered for $59.95. In the world of herbal supplements this seems excessive.
The Commitment
All you have to do is take one pill with a meal every day. The daily commitment is not very high, but it's the longevity of the program that you might have trouble staying with. They recommend, and only give a guarantee on, staying with the program for 9 months. Nine months is a long time to stick with pill taking.
The Guarantee
If you get no results after 9 months they say that you can get your money refunded from their guarantee. This is a rather long time to have to follow through on this promise. You would have to take the pills for 9 months and then somehow prove that it didn't work. This would be rather subjective and there's plenty of room for them to argue that it did actually work.
This is rendered moot by the mere fact that nearly anyone that buys a 9-month supply will not remember to take if for the full 9 months, and will either stop taking it before then, or try to get a refund before the 9 months. Either way it's highly unlikely that any refunds get honored.
Evaluation
Although they state that their ingredients are all 100% natural, there is no ingredient list posted at their website, nor is it addressed on their Frequently Asked Questions page. When taking products that are made from "natural" ingredients, it's important to know what you're consuming, and in what concentrations.
Does Dime Curves Really Work?
It is unclear whether or not Dime Curves works. There simply is not enough data at this point to determine its effectiveness. With a product like this you have to assume that it doesn't work, until proven otherwise. There's no use looking at the before and after photos on their website, because these are meaningless. There's no way to prove that Dime Curves is the way that they achieved these results, and you have to start off by assuming that it was not.
If you do proceed with it, proceed with caution.
Our Recommendation
No butt enhancement pills or creams have substantiated scientific evidence that supports their claims. Your better off using Booty Pop Panties for an instant fix.
What do you think? Does Dime Curves really work?