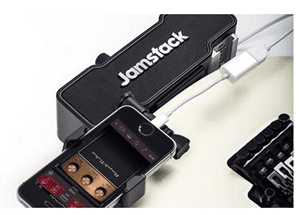 There are a lot of people that really love playing the guitar. Once they become good at this they really want to step it up a notch. But, to buy additional equipment to allow them to do this comes with a lot of negative aspects. There is a solution though and it is Jamstack which is a device that is being hailed as the first attachable guitar amplifier.
Overview
Jamstack is a small attachable device that can be attached to any electric guitar within a matter of second. Once done it acts as a standard amplier or it can be plugged into a smartphone. Either way there are some amazing effects that can be produced.
The Claim
There are a lot of amazing claims being made about Jamstack. Such as it has a bypass button to play without the phone. Or when in Bluetooth mode it become a top quality Bluetooth speaker. It carries 10 watts of powers and the drivers are 1.5 inch. It is quality made for performance and durability.
The Hype
The big hype for Jamstack is the compact size. Imagine not having to lug around a large amplifer or having to invest substantial money in the traditional applifying equipment.
The Cost
For those that are ordering Jamstack from their site they can expect to pay $249.
The Commitment
The first commitment will be to convince oneself that something so small can be as powerful as what Jamstack is. There is no big learing curve that comes with it. It is just a matter of attaching it then enjoying what it has to offer.
Evaluation
There are several factors that need to be evaluated and it seems that Jamstack passes all of these with flying colours. It is lightweight, compact and only takes seconds to start using it. It is top quality in its components as well as sounds.
Final Jamstack Review
Jamstack is full of possibilities when it comes to achieving different effects. Users can play along with any music they choose on their smartphones. They can access learning apps to enhance their skills. There are presets that can be experimented with. We are prepared to give Jamstack a thumbs up which we feel is a valuable resource for any guitar player.
Our Recommendation
If as yet you have not learned how to play guitar then this may help.
What do you think? Does Jamstack work or not?