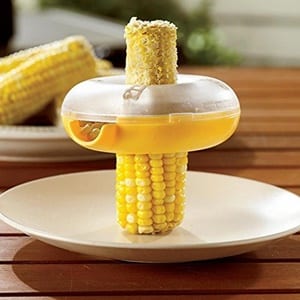 Eating corn right from the cob truly is a great food experience, but it is not always available all year around. There is a device that can help you capitalize on the great taste of corn this way by using it then freezing your corn so you have that amazing experience all year round.
Overview
The all new GetTen New One-Step Corn Kerneler is a fantastic utensil for anyone who is concerned about what they are eating today and the amount of sodium and other additives that may be in the corn packed in cans. It also works great as well for anyone who simply loves fresh corn on the cob but prefers to eat it in another fashion as opposed to picking it up!
The Claim
The claim by Get Ten is that the GetTen New One-Step Corn Kerneler will make the process of stripping fresh corn on the cob easier and more complete with their specially designed corn kerneler.
The Hype
The hype is mainly realized by the excellent job that this GetTen New One-Step Corn Kerneler actually does on getting that true corn on the cob goodness off the cob and into a bowl.
The Cost
The cost of the GetTen New One-Step Corn Kerneler is a very reasonable $9.59  Similar products sell for around the same price but this one seems to work really well and has some features that the others do not that make it a good value for the money,
The Commitment
Not much needed in the way of commitment other than the commitment to knowing what you are putting in your body to maintain good health over the long haul. Getting your veggies in the freshest and least processed manner is always better for you than buying stuff pre-packaged and corn is no different.
Evaluation
As a lover of all thing fresh there is nothing better than a device that makes getting your favorite food items in their absolute freshest forms as easy as possible and that is what the GetTen New One-Step Corn Kerneler is designed to do and does really, really well! You simply need to hold the unit and in one hand and slide the narrow end over the cob with the other and then with both hands push the unit down gently on the cob of corn to completely and effortlessly strip the cob of all its juicy goodness. The corn is then accumulated in the storage/dispensing area until you have filled it up and it needs to be emptied, which is about 2 large pieces of corn on average. The stainless blades perfectly trim the corn so you actually get corn niblets and not cream corn like some of these units tend to do. The GetTen Kerneler is a very well made and thought unit and it really does what it says it will do.
Final GetTen New One-Step Corn Kerneler Review
As we mentioned above, it looks as though the GetTen New One-Step Corn Kerneler performs very well and did the job of peeling off fresh corn on the cob into corn niblets admirably indeed. For anyone who loves to have fresh corn but prefers it not be on the cob or if you want fresh corn for a recipe and prefer to know what is in your food then this unit is for you.
Our Recommendation
The GetTen New One-Step Corn Kerneler does what it says it will do very well and very reasonably priced this is a great tool for those who care about where their food is coming from and what exactly goes into it. You get to control the sodium content and avoid any preservatives by getting your corn niblets this way and for many that is very important. Highly recommended and priced right. What are you waiting for? Now if you want to look at corn that is used in another fashion check out this corn popper.
What do you think? Does the GetTen New One-Step Corn Kerneler work or not?