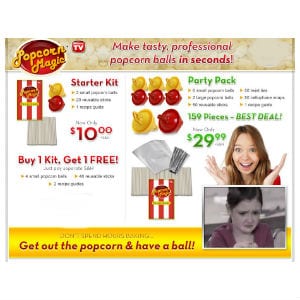 Popcorn Magic is a mold that helps you turn ordinary popcorn into popcorn ball treats. It looks simple enough, but things like these often look easy to use and then you get them home and find out it's a big flop. So let's see if this is a winner or not.
Overview
Popcorn balls can be a nice treat because they can be covered or mixed with just about anything, such as sweet candies, or chocolate, and since the popcorn provides the butteriness and saltiness you get a nice flavor combination going on. You also get that classic popcorn crunchiness, so you end up with crunchy and salty and sweet or chocolatey and it just works.
The Claim
The makers of Popcorn Magic say that you won't have to get your fingers messy, or burn them trying to make popcorn balls in your favorite flavors. They say you can make tasty popcorn balls that actually look professionally made, all with simple tools that make them come out uniform and ready to eat. They say with the included recipe guide you'll be able to make popular flavors that many people enjoy, and will also give you decorating ideas to make it so you
The Hype
The hype is that this is a product that has one specific use, so most of the time it will be stored away and not in use, unless you consume a copious amount of popcorn balls.
The Cost
The Popcorn Magic set comes in two different sizes. You can get the starter pack for $22 or the party pack for $40. The prices are listed at $10 and $30, but you have to factor in shipping costs to get to the total price. On the start kit you're actually getting double what is listed, and that's why there's a second shipping charge. So you actually end up with 4 small popcorn ball makers, 40 sticks and a second recipe guide, although we think it is just a copy of the same recipe guide.
The Commitment
You're just supposed to follow the included recipe guide so that it's easier and you're not left wondering how to make creations like these. It can be a pain trying to make popcorn balls without a kit like this and they make a valid point that your hands get all sticky or the popcorn is too hot to handle.
Evaluation
The Popcorn Magic set is about as basic as you can get. It's really just a few plastic ball molds and additional accessories, so there's very few ways that it couldn't work, or that can break and stop working. It's nice that you can use both microwave popcorn as well as traditionally prepared popcorn with it, so you can make it however you want to.
If your kitchen is littered with kitchen gadgets that you thought would be great but turned out to be disappointing, you might want to hold off on this unless you and your family just love to have popcorn a lot. The reason being is that it doesn't do much besides make popcorn balls, so if you don't end up using it as much as you thought it's just going to be one more thing to store and eventually get rid of at a garage sale, or maybe just end up in a landfill somewhere. It's not the product's fault, it's just one of those items where it looks good in the moment but might not have the staying power to justify keeping it long term.
Final Popcorn Magic Review
The Popcorn Magic set getting our Solid Try rating, as it's pretty good at what it does, and if you're a fan of popcorn-themed snacks it would be worth it to at least get the starter pack. The party pack would be good if you want to make a group activity out of it, like if you wanted to make bunch of them for a fundraiser or if you just had a large group of people to supply with snacks. One thing about this product is its novelty factor. It can be a source of fun for you and your family, and you might find that it is something you turn to again and again as a sort of bonding experience. In that respect there really isn't anything else out there that does what this does, so it may be a good buy if you see yourself having fun with it.
Our Recommendation
If this caught your attention you'll most likely be happy with the way it works, and have at least one time that you pop some popcorn and put it through its paces. Depending on how often you eat regular popcorn will really dictate how often you use it. And how much you like the experience the first time will play a part in how often you think to use this again.
What do you think? Does Popcorn Magic work or not?