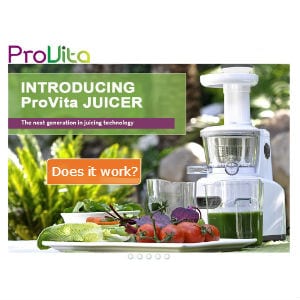 The ProVita Juicer is a cold press juicer that promises to provide healthier juice from fruits and vegetables because of its unique juicing capabilities. These types of juices come with a bigger price tag, so it's important to see if the extra features justify the added expense, or if there are better juicing options available.
Overview
If you're wanting to get in on the juicing craze, a proper juicer is essential of course. You can try to get by with a blender, but those are really not made to double as juicers. Some of them are pretty good at what they do, like the VitaMix. But if you want to get serious you'll eventually find yourself checking out cold-pressed juicers so that you can lock in more of the nutrients and not lose them to an overheating blender.
The Claim
The makers of the ProVita juicer say that you're getting 250 watts of power with it, and that it has a two stages when it juices. They also admit that there are only three settings, you can either turn it off or on, and there's also a reverse switch. They say that the design of the product saves space on your countertop, and because of its larger-sized spout it's easier to serve the juice that you make. They say that this doesn't heat up like a normal blender or juicer does, due to its lower RPMs, which means it preserves more nutrients in the fruits and vegetables.
They also point out several of the accessories that it comes with that should make the juicing process go more smoothly. There is a tamper so that you can push the food down, there's screens that you can place inside the juicer to trap more of the pulp if you want more pulp-free juice. They say it has an auto-cleaning mechanism so that the screens get wiped clear which yields more juice.
The Hype
The hype comes from the claim of cold-pressed juicers that they provide more nutritious juice because they stay cooler, and thus do not burn off any of the nutrients. The claim suggests that other blenders get so hot that they end up compromising some of the vitamins and minerals that are in the foods being juiced.
The Cost
They're asking $400 for the ProVita juicer, which puts it on the higher end of today's juicer options, but on par with other cold-pressed juicers. When you're comparing prices you need to make sure it's an apples to apples comparison, because cold-pressed juicers are generally more expensive than a blender or a regular juicer.
The Commitment
Compared to using a regular blender or juicer this is just about the same sort of commitment. You have to go out and buy the ingredients that you want to juice, like apples, oranges, kale, spinach and more, and then get them all prepared to be juiced, then do the actual juicing, and then clean up the resulting mess. There are a ton of juice delivery services available these days, so if you were doing a juice cleanse or were only going to juice for a short duration, like to kick off a diet plan, these might be less commitment and a cost savings in the end.
Evaluation
The ProVita juicer is a relative newcomer to the scene of cold pressed juicers. These are special types of juicers that are supposed to have a masticating effect, meaning they pretty much chew up the fruits and vegetables so that you don't have to. It mimics the work our teeth do so you don't have to feel like a cow munching on a stalk of celery just to get all of its good stuff out. When you compare this to a blender or a typical juicer you are basically just trying to cut the food up into really tiny bits, rather than mashing it to release all of the juice inside. It's also blending up the fruit, but it's doing both mashing and blending so you get the best of both worlds.
A different cold pressed juicer gets put to the test:

It's great to go with a cold-pressed juicer if you are serious about juicing and want to get the most out of your efforts. But from what we can determine there may be better juicers to buy than this one.
Final ProVita Juicer Review
The ProVita Juicer is getting our Risky Try rating because there just isn't much known about it other than what you've seen on TV or in its promo. In the meantime there are other cold press juicers that have hit the market and stood the test of being used in real situations and have passed with flying colors. Take for example the Breville Fountain Crush Masticating Slow Juicer. It is $100 less, ships free, and has stellar reviews from a considerable number of users. It also has all of the features claimed by the Pro Vita, including being very quiet, being able to change directions, and keeping your nutrients intact.
Our Recommendation
This may be a fine juicer, but why be one of the first people to try it out at $400 when there are suitable alternative for less money that have already achieved success in the marketplace? There's no reason to be a guinea pig for a product with such a high price tag on it when there are others available that already show they can perform well.
What do you think? Does ProVita Juicer work or not?