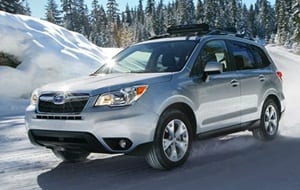 While owning a small vehicle is a good economical choice for those with families, it is not always a practical one. It is pretty difficult to load the entire family and all that they need to carry, like their sports equipment into a sedan styled vehicle. So is there a good choice in SUV's that will help with the pocket book and provide good transportation?Let's see if the Subaru Forester is capable of meeting all of the vehicle criteria a family may need.
Overview
The 2015 version of the Subaru Forester is ranking well for being an affordable and compact SUV.It meets the standard criteria of what a family would require for pleasant and safe transportation. It has good leg room in the back, and lots of good cargo space. It is good on fuel and possesses a standard all wheel drive.
The Claim
the Company is stating that the 2015 design of this make and model offers improved handling and allows for quicker response to road conditions. They are very proud of the Eyesight Driver Assist technology.They are stating that this technology will sound an alert as well as a visual warning if it senses danger of a collision.
The Hype
When it comes to vehicles there is a lot of pressure on the car manufacturers to meet the expectations of a potential customer. It has to appeal in looks through its design. Of course be recognized for its safety features, and fuel economy especially with a bigger vehicle model is a must. It must have power and durability. Then when all of these needs have been satisfied it must be priced right. All of the hype around the Subaru Forester focuses on all of this and more.
The Cost
What you are going to pay for the Subaru Forester 2015 model is going to depend on where you buy it and what extras you load it with. On the average you will see the pricing starting around $22,195.
The Commitment
Purchasing a car is a huge commitment and you really want to approach this type of purchase systematically. It is really easy to get caught up in one major feature of a vehicle and lose sight of all the other requirements you are going to need. If you have been doing some reviewing and have narrowed down your choice to the Subaru Forester, then you want to consider whether you want to go after the newest model, or would you be satisfied with a gently used previous model? This decision will likely be made on your budget and whether you are intent on having some of the new perks that the latest Subaru model may possess.
Evaluation
We like to approach our reviews in general in a unique way. Instead of giving you another version of what is already readily available to you on the internet, we like to get you to expand your thinking about a product with a different approach. We are applying this same concept here with the Subaru Forester. We are encouraging you to view your vehicle purchase by looking through the eyes of all those who are going to be enjoying it. This means Mom, Dad, the kids,maybe the grandparents and yes even the family dog. Once you have researched all of the necessary and standard criteria of what a vehicle must have for you, then take a few extra moments to see how it meets the needs of everyone else. The top priority is going to be safety and this is paramount for everyone that will be riding in the vehicle. Then of course there is fuel consumption,and durability. For the drivers this often includes both adults of the family. Remembering the Subaru Forester is being looked at here for family use, the drivers will want enough power to enable the vehicle to meet the challenges it will be facing. Yet, not too much power that may make some of the other drivers less confident in their handling of the vehicle. Parking is something else that may need to be considered, and the design of this particular vehicle doesn't seem to pose any problems there. While cargo room is great when you need to carry a lot of items in the vehicle especially for sports families, it is also important for day to day tasks as well, like grocery shopping, or trips to the laundromat, or even provides the ideal spot for the family pet. Interior is important for comfort which in turns makes being in the vehicle a lot more pleasant.
Final Subaru Forester Review
We are going to give this SUV a Thumbs Up based on an extended look of how it can meet the needs of each family member. It seems like nobody would have to sacrifice their wants or needs when choosing this vehicle. Naturally it is safe to assume that nothing is totally perfect, and there are always going to be at least some minor negative factors that surface with any vehicle. With the Subaru Forester it would seem that the general complaint as been with what some say is an inferior navigation system. The small gripes will change according to the year and model but you need to determine how significant these are to you.
Our Recommendation
You don't need to be encouraged to do your homework when it comes to buying a vehicle. When you are going to spend big money like this then you want to make sure you are making the right decision. We do encourage you to look at the total picture when making your choice. Would the Subaru Forester meet the needs of you and your family now as well as in the future? Is it a vehicle that all the drivers in your family could handle easily? Does it fit in well and will it hold up in the driving atmosphere that it will be subjected to? Also, where you buy your vehicles whether used or not is something you need to pay attention to as well.
What do you think? Does the Subaru Forester work or not?