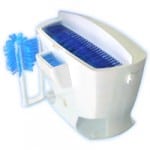 Easy Dish hopes to take out the difficulty of washing dishes. It's about time that someone decided to try and make dish washing easier. Washing dishes has to be one of the worst chores to do. Maybe it's because they need to be done every day, or because you just don't feel like cleaning after you've just cooked and eaten. Or maybe it's because there hasn't been a really good system to just get them done and over with.
Overview
When automatic dishwashers came out, people probably thought that this was the last line as far as dish washing inventions go. But there are many inherent flaws to a dishwasher. Many people either can't afford it, or don't have room for one in their kitchen. They always break down, and you basically have to pre-wash your dishes before they go in. You also have to wait until you have a full load to justify using all of that water and electricity for anything less.
The Claim
Easy Dish claims that you'll be able to quickly and easily wash your dishes so that they're nice and clean, without all of the problems associated with traditional dishwashing or using an automatic dishwasher.
They say that it has over 10,000 cleaning bristles that do the work so that you don't have to scrub each individual dish by hand. You can even clean silverware with "just one swipe" without having to spend time on each one. You can also clean glasses with their special glass cleaner, and not have to worry about sticking your hand into each one trying to get to the inside. It is designed to be able to clean both the inside and outside of glassware at the same time.
It can even be safer because you won't have to clean a chef's knife or other sharp blade by hand, just run it through the bristles and you're done.
It has a drain for the water, and it has suction cups to keep it firmly in place in your sink. It also comes with instructions on how to add the right amount of detergent and water so that you get consistent results every time. It says that you'll use far less water, up to 80% less.
The Hype
There's not really too much hype here. This invention is huge! It's amazing that this isn't a best-selling product that is in every home. The infomercial is not full of the usual empty promises. This thing works.
The Cost
Easy Dish is just $20 plus shipping and handling. This is a very reasonable price for something that works so well.
The Commitment
There isn't too much of a commitment requirement here because dishes have to be done every day. You won't forget to use your easy dish because it will likely have a permanent residence in your sink. Since it saves time, water, and dish detergent, it only makes sense that you would use this to wash all of your dishes. It doesn't matter if you have a small load, or if you are cleaning up after Thanksgiving dinner.
Evaluation
Using Easy Dish is just as easy as they make it seem in the infomercial. You still have to do some of the work, but your time is spent so effectively and efficiently, that it doesn't seem like work anymore and before you know it the dishes are done. It worked on all of the different plates, bowls, cutlery, silverware, and glassware we used with it. Nothing presented a problem and we did a full load of dishes in a few minutes, without even breaking a sweat.
Final Easy Dish Review
Easy Dish works! Just drop it in your sink, follow the included instructions on how to use it properly, and then go for it. There's no way you'll go back to your old ways of doing dishes, and it will probably save you twice as much from all the electricity and water you'll save from running your dishwasher. It also makes it easier for other members in your household to pitch in on dish washing duties, as any one can use it and be done quickly.
Our Recommendation
If you can find an Easy Dish, grab it. You'll never look back to the old way of doing dishes, and wonder how you got along without it all this time.
What do you think? Does Easy Dish work or not?