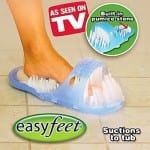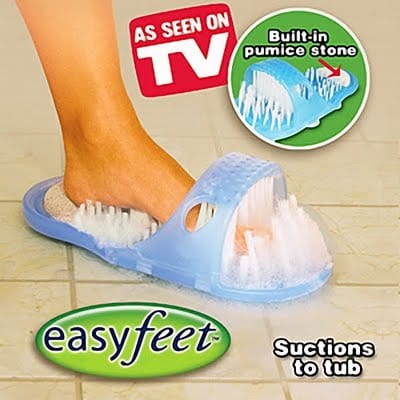 Easy Feet seems like nice way to pamper yourself at home, if it really works. As people are now aware of the importance of having healthy feet, new devices as well as new methods of caring for the feet are now being included in a healthy lifestyle. Foot spas and other types of feet pampering procedures are offered in salons, and consumers are patronizing these services for hygienic reasons and for their health benefits as well.
But if you are going to go to salons regularly for foot massages and other similar services, it can prove to be too expensive and impractical. In today's tough economic times, there are more important things to spend on than foot pampering.
Overview
Easy Feet is one of the products being advertised on TV that focuses on foot health and maintenance. Because due care should be given in cleaning the feet, this product offers convenience as well as usefulness in cleaning the feet properly. The concept of this product proves to be helpful and practical to people who are suffering from back problems, and it will work great for pregnant women with growing bellies too.
The Claim
As the name suggests, Easy Feet claims that you can clean your feet easily by using this device. The system involves exfoliation while massaging your feet from heel to toe. This procedure is therefore effective in removing dead skin cells on the surface areas of your feet, as it stimulates the nerves that are connected to that area of your body.
You can do this whole process without bending and reaching down to scrub your feet, since the feet cleaning device is firmly set on the shower floor or tub as you take a bath. It is guaranteed that using the product everyday will produce significant results, and you can see the improvement on your feet's condition within 30 days of using the product.
The Hype
Easy Feet is advertised as an economical way of pampering the feet. Because foot massages can be quite expensive, consumers are open to the idea of having a simple device that they can use at home.
Aside from the relaxing feeling that you can get from foot massages, proper scrubbing and maintenance of feet is also good for one's overall health. People are aware that their feet carry their weight for much of the day, so due care should be given to this area.
The Cost
If you're going to compare the price of Easy Feet with regular trips to the salon for a foot spa, you can easily conclude that it's a practical and economical investment. The product only costs around $15 and you can use this over and over every day. The pack contains the device that comes in the shape of a slip-on flip flops, and you need to wear this when you intend to clean your feet.
The Commitment
In order to make the product work, you need to use it everyday when cleaning your feet. This has a built-in pumice stone on the heel area to serve its purpose of cleaning the heels. The rest of the unit is covered with bristles that function as scrubbers to clean and massage your feet.
The little suction cups will hold the device in place while you run your foot in a back and forth motion as you shower and take a bath. This whole process guarantees that every part of your feet will be cleaned properly and removing dead skin cells will also stimulate the production of young cells that will make your feet look young and feel young.
Evaluation
The concept behind the product is great and the healthy method of cleaning the feet is also noteworthy. However, there are reports that the device can't stay in place when trying to use it as directed. It therefore reduces the efficiency of the item and poses some risks of slipping in the bathroom too.
Final Easy Feet Review
Technically, Easy Feet works, but you might need to hold it down to keep it in place while you clean your foot. This method defeats the purpose of using the system conveniently, as you will still need to bend down to reach for your feet. Although you can also hold it down with your other foot while performing the act of cleaning, it can be too tedious and troublesome. You even face the risk of slipping, as you struggle with this complicated method of brushing your feet.
Our Recommendation
We are not recommending Easy Feet for the simple reason that it is not as functional and useful as it claims to be. However, because it is very affordable, you can still try using the product. There are some people who find this item useful, and who knows, it might work for you too.
What do you think? Does Easy Feet work or not?