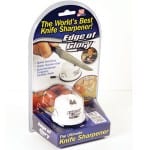 A sharp knife is a safe knife, and the Edge of Glory Knife Sharpener says it can get your blades back to day one sharpness or even better. If you don't have a proper knife sharpener in your kitchen tool arsenal, this might be the one to get. We evaluate whether it is living up to its claims or if there are better options available.
Overview
It might sound counter-intuitive, but dull knives are responsible for more accidents in the kitchen than sharp ones. When you go to cut a food you assume the knife is going to respond a certain way, and when it doesn't it ends up slipping and going where you didn't expect it to. By keeping your knives sharp, you are being a more professional cook, and developing a habit that all top chefs learn at some point in their careers and training.
The Claim
The Edge of Glory Knife Sharpener says that it is the best knife sharpener that money can buy. They say that it can hone any blade into a razor sharp cutting instrument. In the TV promo they even sharpen a credit card to the point of being able to slice a tomato.
They say it works on all types of blades, including serrated knives. This is an important distinction because many blade sharpeners out there only work on chefs knives and fillet knives and don't perform well on any sort of grooves or teeth. They also say that its suction base allows you to secure it in any location of your kitchen you choose and it locks down firmly so you can sharpen away.
The Hype
It's funny that something is small as a knife sharpener has gotten so much attention, but if you don't yet have a quality sharpener it is something that you need in your kitchen arsenal. And if you've ever priced them at the store, you'll know that this is a good price point if it works as depicted.
The Cost
They say that some comparable knife sharpeners go for $165. The Edge of Glory Knife Sharpener comes in a pack of two, as well as 3 bonus knives for $25 which includes shipping and handling. Even if you might not want two of them, it's one of those obligatory 2nd one free just pay shipping offers, so you can either keep a spare one around for yourself, or give one to a friend or family member.
The Commitment
If you currently don't sharpen your knives, you'll have to spend some time getting them all sharp again, and after that it should be easy to keep them sharp as you go along. Overall, this should save you time in the kitchen by allowing you to sharpen your knives more quickly, and be able to cut through fruits, veggies, and meats without as much struggle, and with fewer accidents and cuts to your fingers and thumbs.
Evaluation
One nice feature of the Edge of Glory knife sharpener is that it's got a suction cup base, so it fastens pretty much anywhere you want it, and stays firmly in place while you wield the blade. Other sharpeners you have to hold in your hand, and it can be cumbersome when you are trying to hold a sharp knife and the sharpener as well. This also allows you to get leverage and get a good firm swipe through the sharpening blades.
The reviews however, are mixed, with some people saying it works great, and others complaining that it breaks easily and caused damage to the knives. We're aware that products like this are usually made at the cheapest price to the manufacturer as possible, and this results in a higher percentage of defective products being produced. It's possible that this could be a case where those that receive a properly functioning unit like it, and those that get a defective one don't.
Final Edge of Glory Knife Sharpener Review
The Edge of Glory Knife Sharpener is getting a no-go from us. There are just too many people saying that it isn't able to live up to expectations and that it doesn't hold up to repeated use. When it comes to buying a knife sharpener you want it to last at least several years, so when users are reporting that it falls apart after just a few uses you have to look for a better knife sharpener.
Our Recommendation
It's not something that you usually think about, unless your knives get super-dull, and by that time you've probably already been struggling with them for a while. It may seem like a trifling matter, but if you can knock this task out quickly and easily and be able to maintain it without much hassle, all for less than $30 then it's a good deal.
What do you think? Does the Edge of Glory Knife Sharpener work or not?