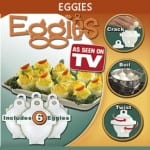 If you love hard-boiled eggs but hate trying to peel them, you probably jumped for the phone when you saw the Eggies commercial. It offers what seems like the perfect way to make hard-boiled eggs without the worst part of making them – the peeling. But could this really work, or is it all just smoke and mirrors?
Overview
Unless you get it just right, eggs can be a real pain when you try to peel them. The shell can stick to the membrane of the egg, making it really hard to get off, and sometimes you end up having to chip them off piece by piece. This can make it so you don't feel like making them very often, or you even go as far as avoiding foods you really like because of the chore of peeling the eggs.
Other times they're stuck on so tightly that it starts to make the egg chunk apart and crumble in your hands. If the eggs are cooked to perfection the shells just slide right off and are relatively easy to peel. But it's a very small window for success and it's easy to overcook or undercook hard-boiled eggs and then deal with the peel.
The Claim
The ads for Eggies make it look like the absolute best way to make hard-boiled eggs. By simply cracking a raw egg into the special containers, and then boiling them as usual, you simply untwist it and out pops perfectly cooked, shell-less hard-boiled eggs.
The Hype
There's not so much hype with this product, the world of eggs is not so glamorous. Either you're an egg nut and you desperately want this product as soon as you see it, or you don't really care for hard-boiled eggs and you don't really care about it much.
The Cost
Eggies follow the classic TV ad pricing and are just $10 plus shipping and handling of $7.99. You get two for the price of one, and unlike many products where you have to pay additional shipping for the second "free" product, you get both shipped for the total price of $17.99.
The Commitment
There isn't much commitment involved in using Eggies, in fact their basic premise is that they are reducing the level of commitment involved in making hard-boiled eggs. By eliminating the amount of time and hassle involved in peeling the egg, there's actually less of yourself that needs to be invested in the process.
Evaluation
Be sure to oil your eggies when you use them, with either butter or margarine. This will help with clean up. Also, you can put them on the top rack of your dishwasher to make the process easier. You might find that they can be rather hard to clean, if bits of egg get stuck in its crevices.
Even though they say that Eggies are made with a non-stick material, you'll still want to take the extra step of keeping them well-greased for best results. Failure to properly oil the containers will result in similar frustrations as those experienced by cooking eggs the traditional way. Bits of egg will stick to the plastic and be rather off-putting. Nearly all negative reviews seem to be from those that did not pre-grease their Eggies.
Does Eggies Really Work?
Eggies performs as shown in the commercials and produces relatively normal-looking and tasting hard-boiled eggs. The cooking time is the same, of course, and since they peel more easily it makes it easier than ever to enjoy things like egg salad sandwiches, and deviled eggs.
Numerous amounts of feedback have come in saying that Eggies work. Follow the instructions that come with the unit and you'll be all set. Keep in mind that the shape of the egg will be a little off, it's more like a pyramid shape than an egg shape, but the taste and texture will be the same. Always oil up your Eggies. This can't be understated.
Our Recommendation
Give Eggies a go! They are priced well, are a genius idea, and the order process does not include any shady things like auto-shipping, or recurring billing to your credit card. You don't have much to lose, and potentially a whole lot to gain in the form of delicious hard-boiled egg recipes.
What do you think? Does Eggies really work?