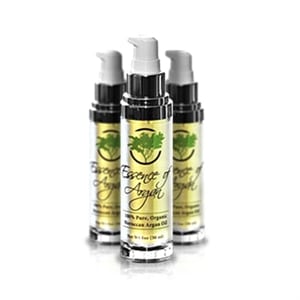 If you're looking for argan oil to use on your skin, Essence of Argan has likely piqued your interest. They say that it is 100% pure Moroccan argan oil, and that it can be used to treat a host of different skin conditions. But in a world filled with so many bogus companies out there trying to pass off inferior products, can we be sure that this is legit? We explore the claims and the product to find the answer.
Overview
Argan oil is produced from the seeds of argan trees, which only grow in Morocco. Local Moroccans use the oil to dip their bread in, but it is also known to have benefits to the skin, as well as other nutritional and medicinal qualities to it. When looking around at the different cosmetic and skin care products out there claiming to have argan oil in them, it's interesting to wonder how legitimate their claims are. The argan tree itself is protected by UNESCO, so it's not as if the oil is something that is easy to obtain.
The Claim
Essence of Argan makes several claims as to its benefits. It says that it can help with decreasing wrinkles, fighting the signs of aging, bringing back elasticity to the skin, moisturizing both the skin and the scalp, nourishing damaged hair, giving you a youthful glow, repairing cracked feet, helping with the symptoms of eczema and psoriasis, reducing the appearance of stretch marks, clearing up acne, treating scars, helping with diaper rash, and helping to grow the hair faster, as well as others.
The Hype
Any time you make as many claims as they do, you are building up a lot of hype around your product. In actuality, there are only so many things you can expect one product to be able to do. When you start piling on the number of things it's supposed to be responsible for, you're setting it up for disaster. It's better to focus on getting just a few things right instead of promising the world and having people be disappointed. In this case, they should focus on the moisturizing benefits.
The Cost
You can get a single bottle of Essence of Argan for $40.80. That's for 15ml, and it is a better deal than getting the 30ml size for $83.80. If you want a cost savings it happens with the 50ml size at $103.80, getting your per milliliter costs down to $2.08. It may seem expensive, but that is because it is pure. There are diluted products out there, but you won't be getting it straight, it will be mixed with lesser quality ingredients to bring the price down.
The Commitment
One thing we've noticed with all-natural products like these is often people don't give them enough time to work. When something is all natural, you shouldn't expect it to work overnight. It needs time to set in and do its thing. With something like 100% pure Moroccan argan oil, you might see some benefits right away, but the longer you use it consistently the better it should work.
Evaluation
Essence of Argan seems to be making a valid attempt at bringing genuine argan oil to the market. It would be very easy for an unscrupulous company to create a product that was less than genuine. If you overlook all of the claims that it makes, and simply focus on it being a great moisturizer for the skin, it's an apparent winner. Users have noted that it works great at moisturizing the skin without leaving that oily or greasy feeling behind.
Whether it is a one-stop cure-all for several different conditions remains to be seen, but it looks promising. It's definitely worth trying out, and the Essence of Argan company is giving back to the local community. When you buy and use this oil you are helping fair trade cooperatives and the local people in Moroccan communities. You're also helping to preserve the trees, ensuring that they maintain their numbers and aren't wiped out by over-consumption.
Final Essence of Argan Review
Essence of Argan is getting a Try rating from us, based on the proven history of argan oil, and the commitment they're showing on creating a quality product. Those that have tried it out have noted that it is of high quality, and you can contrast this with lower-priced knock offs that claim to have argan oil in them, but don't reveal at what percentage. This is 100%, so you are getting the real deal.
Our Recommendation
If you've been looking for a product that incorporates argan oil, this is one of the better choices available. Other products don't claim to be 100% argan oil, so you're getting a mixture of different oils and possibly even chemicals. If you're going to use it, you want to use something that is pure, and that is actually sourced from Morocco, the only place where argan trees grow.
What do you think? Does Essence of Argan work or not?