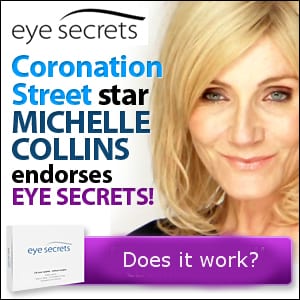 Eye Secrets is a series of products that claims to make your eyes look younger. If you've always had issues with the way your eyes look, but didn't know what to do about it other than get surgery, this may be a possible solution. If you've tried other eye products with mixed results, you might want to give this a try and see if you have a better experience. We break it down to see what it really entails.
Overview
They say that the eyes are the gateway to the soul, and therefore you eyelids are the gateway to the gateway. They really get a lot of attention, since people try to make eye contact, and the eyes are one of the more noticeable features for many of us. If you have sagging or drooping eyelids, then you will not be putting your best face forward, and will have a tired or old look, even if you don't feel that way.
The Claim
Eye Secrets claims that it will basically lift up your upper eyelids, which goes a long way to making you look younger. You might not have even noticed just how far your eyelids are drooping. It's nothing to be ashamed about, it's a problem that most everyone will experience, but some more than others, and at a younger age. By raising up the eyelids you should look younger and more alert right away.
They say that it doesn't matter what shape your eyes are, it should work with them because of the way it is designed. Some products out there have problems with different eye sizes and shapes.
They say that it's very easy to use and that it goes on in just seconds, and that within just a minute of opening it you will start to see the results. They also state that it is a possible alternative to getting surgery done. They say that it is safe, and that for the price it's an economical decision.
They also claim that the results you get will last through the day, so you don't have to worry about bringing it with you to work or other events, you can just put it on in the morning and be good to go all day. They say that it is safe to use every day, or you can just put it on for a special occasion or date.
The Hype
All beauty products contain a bit of hype in them, because beauty is only skin deep as they say, so anything you do to the surface is only a surface fix. The more importance you place on your looks, and the more of your identity you wrap up in the way you look, the harder things are going to be for you as you get older. You can only turn back the clock so many times, so it's important to have a healthy self image that isn't so reliant on your physical appearance. Yes, we live in a world where looks do matter, but at the end of the day it matters more how you feel about yourself.
The Cost
Eye Secrets is $125 for all 3 products, and that gets you a free lash accelerator. You can also buy these separately, each with their own price point.
The Commitment
When it comes to any product like this, you have to be diligent about how often you use it, and make sure that you use it as directed. If you want to keep up the appearance you'll have to apply many of these treatments daily, as they only last 10-12 hours. It wouldn't make sense to get your eyes looking younger only to have them re-age when you stop using this, so you are really committing to using this for the long term.
Evaluation
There are basically three components to this program. The first is the upper eyelid lift, that will be what many people are interested in if they have droopy eyelids. Because the only other real alternative is surgery, this could be a way to avoid that or at least prolong it for as long as possible. While it's not a very risky surgery, it still involves the eye area, and is pretty pricey.
The next component is the Instant Eye Tightener, and this is supposed to take care of puffiness, wrinkles, and the dark circles under the eyes. So if you combine this with the upper eye lift, you are doing double duty to the problem of droopy eyes and tired looking eyes as well. The third step is an eyelash enhancer, which would pull off the whole ensemble, and really draw attention to your young looking peepers.
Final Eye Secrets Review
Eye Secrets is getting a Try rating from us, based on the feedback it has been getting, and also because of the way their products have been developed. We like that they let you get the different product types individually based on what you need. While many people will end up getting the full kit, it's nice to know that you can split it up and only get what you want.
Our Recommendation
We suggest trying out just one of the different products based on an assessment of what you need. That way you can try out the quality and the results on your most pressing issue, and if you like what you see you can always go back and get the other products they offer for a complete eye makeover.
What do you think? Does Eye Secrets work or not?