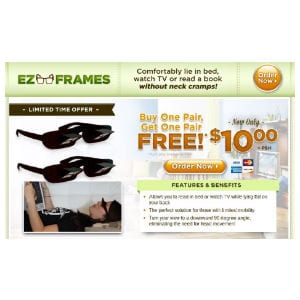 EZ Frames are a rather strange looking pair of glasses that let you lie on your back but still see the television. The big question here is not whether they work or not, since it's just a system of mirrors to redirect your vision, but rather if you'd actually end up using them.
Overview
If you've always wished there was some way to lie in your bed completely flat on your back but still see the TV instead of the ceiling, this is may work for you, but you have to consider what it would really be like to use these. It seems that you would still have to contort a bit, or change your position in bed just to get a clear shot of the TV.
The Claim
The makers of EZ Frames have taken an idea that has been used by private detectives and law enforcement officers to secretly or safely see around corners, and have applied it to a consumer product designed to allow you to see what's in front of you without having to have your head propped up to do so.
The Hype
The hype comes from this product being on the market for awhile now under a few different names. These glasses are not really remarkable in that they are just frames with an angled mirror on them, so no Nobel Peace prizes awarded for this invention, but in some instances it may actually come in handy.
The Cost
You get 2 pair of EZ Frames for $24. $14 of that $24 is shipping costs for each pair. With lightweight plastic glasses like these there's just no way it costs $14 to ship them, and they're cheaply made so you know that the manufacturer is making a profit just on the shipping costs, which are non-refundable in the case of a return. That means that you stand to be out $14 plus return shipping if you don't like these, and you'd only get $10 credited back to your account in the event that you return them within the 30 day window.
The Commitment
You'll have to get into a position that allows for these glasses to work properly. For arts and crafts it might be pretty easy because you could hold the items in your lap and keep your head looking forward in order to do them. The same goes for a book, you can rest it in your lap and not get neck strain from having to look down all the time.
Evaluation
For these glasses to be effective you'd have to be completely on your back with your head unsupported. This is the only way you'd have an unobstructed view of anything. Propping your head on a pillow would give you a view of your feet or legs. You'll notice that the mirrors on these glasses do not move, so it could require constantly moving the glasses every time you shift your head or change angeles, and that would become burdensome in no time at all.
A similar product or perhaps a rebrand of the same product:

They say these are perfect for those with limited mobility, which is pretty accurate since you'd have to keep your head in pretty much the same position in order for them to work. It's important to point out that these do not magnify or offer any other benefit other than changing the direction of your gaze.
Final EZ Frames Review
While they may have identified a problem that some people experience, they have not done the job of proving that their product provides the solution. If the glasses were adjustable it would be a different story, but since they're stationary you have just as much confinement with them on as you do without them. It would be nice if they made them so you can adjust the mirrors depending on the angle your head is in so that you can take whichever position you want, make a few adjustments and be good to go. For this reason we have to say that they don't work in many instances.
With that being said there are times when they would work well, like if you have to look down because you're doing some knitting, or reading a book. Basically it only flops for TV watching because it's hard to lie completely on your back without the use of a pillow. If you're bent on getting them here's a single pair for $16.
Our Recommendation
There's no way that these don't work since it's simply a pair of glasses frames with an angled mirror so that you see at a 90 degree angle. Those planning to use these for reading or for arts and crafts will likely be happy with the purchase, but those that want to watch TV with them will probably be disappointed that it doesn't quite work for this purpose.
What do you think? Does EZ Frames work or not?