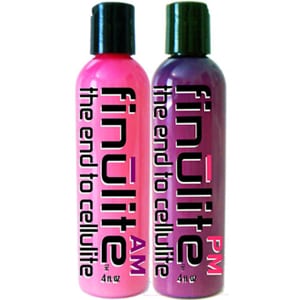 Finulite is a cellulite reductions creams that are meant to be used twice daily in order to reduce the amount of, and appearance of, cellulite. Since this can be a pesky thing to get rid of, and many products fall short of being effective, most people are skeptical that it can really work.
Overview
The reason that cellulite proves so hard to get rid of in many cases is because fat by itself is hard to eradicate, and there are many factors, including genetics, that can cause you to have it or be more prone to it. Usually diet and exercise can help with fat loss, but this is not always the case with cellulite, and it can even persist through lifestyle improvements, even when the rest of your body is fit and looking good.
The Claim
The makers of Finulite say that by using their product you'll be able to transform your body so that you're burning cellulite 24 hours a day. They say that the magic occurs because they've figured out a two part system that works to target your fatty deposits, and helping to get rid of toxins and extra fluids that are the cause of the appearance of cellulite. What's most interesting is that they say it will destroy the fat cells while helping to prevent new ones from forming.
This is also purported to be abe to restructure and rebuild your collagen level so that your skin looks more supple and youthful. This would be an important side benefit to the product, and would make it a crossover into the anti-aging market.
The Hype
Anytime a product shows signs of getting rid of cellulite it's going to cause a bit of a stir. That's because there is an avid consumer base that has been looking for a solution like this for a long time, and they are ready to buy up anything that might help them. That's why it's always good to check out as many facts and figures as you can before making your final decision. It's our job to cut through the hype and get to the real heart of the matter so that you can spend less time debating and move on if you need to.
The Cost
A 30 day supply of Finulite is $50 at their main site but you can get it for half off at Amazon. There is also a cellulite massaging mitt, which is $20 at their main site, and also half price at Amazon. We're not quite sure why there is such a price discrepancy, but at the Amazon prices it's priced reasonably, and is either the same price or cheaper than competing products that aren't rated as highly.
The Commitment
This requires a morning and evening treatment so that you are detoxifying in the morning and rejuvenating at night. It's always a good idea to couple this sort of product with better eating and more exercising. You don't have to overdo it, since overworking the body can actually lead to more of it. Taking a daily walk might be enough to gradually help you out of it, and these creams can be a catalyst to make sure that you're getting the best bang for your buck.
Evaluation
What we see is that the majority of people that try out Finulite really like it, and rate it highly. One common feature that are brought up are that it's very easy to use because of the two different bottles, so you just use one bottle at night and the other in the morning. Even those that said it didn't show much improvement still said that the scent is nice. But there is a wide range of success here, from those that have had multiple pregnancies, to those that only had a minor case of cellulite, and everything in between. The commonality is that they say it worked for them.
Usually with skin care products you tend to get more split results, because of the varying degree of skin types. This is compounded by the varying degrees of cellulite that people have. But what the data is showing is that there is a strong slant towards this working. Will it be guaranteed to work for you, and your specific instance? There's no way to tell, all we can do is state whether the odds are in your favor or not. With this we're showing that most that try it experience somewhat positive results or better, so you should too.
Final Finulite Review
judging by the positive things users are saying about Finulite, we're able to confidently give it our Thumbs Up rating. On products like these it's always best to keep your expectations in check, and be happy with the results that you do get, rather than expecting the world and then being disappointed. If you do get it, we recommend getting the massage mitt so you can get the best results. It's highly rated and goes nicely with the creams that are supposed to be massaged in anyway.
Our Recommendation
We're saying you should definitely give this a try if you've been struggling with cellulite for any length of time. This is especially true if you've tried other products, or have tried changing your diet and getting more exercise to try and decrease your overal body fat percentage. Sometimes it takes a cream like this in order to shift the odds in your favor and overcome genetic predisposition to getting cellulite.
What do you think? Does Finulite work or not?