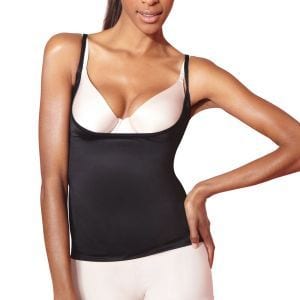 Flexees are a line of body shapers from Maidenform. They are designed to hug your body, but also to allow enough flexibility so that you can move the way you want to and not feel like a wrapped sausage. Most of us are familiar with brands like Spanx or Ardyss, and Maidenform has been around for quite some time and is giving it a try with body shapers. So how well are they doing?
Overview
The concept of a body shaper is nothing new. It's pretty much the same as a corset, only you don't have to worry about tying it up. Today's body shapers are made with materials that they just didn't have back in the Victorian Era. You can put them on yourself and they're designed to pack you in firmly but gently so that you don't hyperventilate, but also so that you get the look you're going for.
The Claim
Flexees claim that they will slim you down, pull in parts of you that are too big, and do it all without being noticed from the outside. They also say that they can help you obliterate things like love handles and muffin tops with some of their items. These are claims that would interest a large portion of the female population, so let's see what users are saying about how well they work.
The Hype
Body shapers are big business. Just ask billionaire Sara Blakely, the owner of Spanx. It makes sense that these would be so popular because it helps you look better instantly and it gives you a good feeling of being held up nicely. The hype is that it's really just a quick fix, but some people use it for the long term rather than fixing the cause of the problem.
The Cost
Flexees prices are different for each piece. As an example you can get their Ultimate Slimmer for $36, while others can cost $45 or more. Generally they are about the same price as competing shapers, so you are not getting a real cost savings here.
The Commitment
Body shapers represent a reduction in your commitment to looking good. The idea is that by wearing them you get the look you want without having to resort to diet and exercise. But they can also be a crutch to help you start a new workout program or turn over a new leaf and begin eating better and being more active.
Evaluation
Flexees come in a pretty wide range of styles and functions. Each line has its own unique premise, with some meant to give you a slimmer look and others designed to enhance specific parts of your body like your thighs or chest. This makes it easier to shop for, since you can only buy what you're most interested in, and you don't have to get a full body unit if you just want to make one area look better.
It's important to spend some time making sure you get the right size. They have sizing tips on each order page, so be sure to look that over and carefully consider your size before you buy. Exchanges are easy enough of course, but it's so frustrating when it arrives and you just want to wear it but then you have to send it back and wait again. If you're really worried about it, get a piece from their Adjusts-To-Me line. This is one where the shaper actually adjusts to fit, and they guarantee that it will fit you with no problems.
They're getting great reviews from actual users, which is pretty hard to do seeing how women are harsh critics when it comes to things designed to enhance their appearance. By providing good results across the board, you know there is a high chance that these will work for you and that you'll be happy with the way they feel and the way they make you look. Some are even calling them Spanx killers, and point to several areas in which they outdo the market leader.
Final Flexees Review
Flexees are getting our Thumbs Up review and you can buy with confidence knowing that you're going to get an item that will perform as expected. Maidenform got it right with these, and we're interested to see how they'll improve on themselves over the years. Spanx says they're going to keep growing and coming out with new products, so you can only expect Maidenform to do the same and therefore there will be no shortage of body shapers to choose from going forward.
Our Recommendation
We recommend using body shapers as a catalyst to getting the body you really want. Diet and exercise can be hard, and the results and resulting compliments can come slowly. That's why you can wear a body shaper, get the compliments now and use those to fuel your new diet program.
What do you think? Do Flexees work or not?