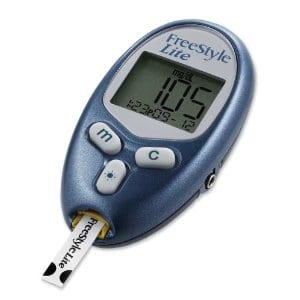 The two biggest draws to using FreeStyle Lite would be that you don't have to code your meter, and you don't have to use as much blood. These benefits are both heavily featured in the promos for this blood glucose monitor, and it seems to make a strong case for itself. But what are real users actually saying about how well it works when put into practice?
Overview
Testing your blood glucose levels at strategic times is an important part of managing your diabetes, and taking good care of yourself. That's why it can be hard when you really don't want to prick your finger in the same spot again and again every day. It can be even worse when you don't prick it good enough to get the required amount of blood, and you have to prick it even harder. They're hard at work trying to make this process pain free, and even trying to develop meters that don't require a blood sample at all. But until then it's about finding the best solution available now.
The Claim
There are a lot of claims that the makers of FreeStyle Lite make about why their meter is better than other ones on the market. The biggest claim they make is that it uses the world's smallest sample size. This would lead one to believe that you don't have to prick yourself as hard as a monitor that requires a more substantial drop of blood. The combination of not needing to code it, and not needing to use so much blood would make this attractive to millions of sufferers out there.
The Hype
Diabetes represents a big market for manufacturers of testing supplies. They know that there's a built in market of users, and that if they make something that is disposable, like testing strips, that the recurring income from having to buy new strips again and again will lead to some big profitability. It's similar to the Gillette business model where they sell the razor for a good price, and then charge a lot of the replacement cartridges.
The Cost
You can get a FreeStyle Lite kit for around $50 which will include the electronic monitor, as well as the lancets you'll need, and of course the testing strips that will allow for a readout. If you are on Medicare these costs should be covered. If you're not you'll have to pay for them out of pocket, and compared to other testers and monitors the prices seem about right. The ongoing costs will vary depending on how many times you use it per day.
The Commitment
Since this allegedly uses the smallest sample size on the market, you don't have to draw as much blood, and there should be less pain involved. They say that you can use different testing spots, so you don't always have to use your fingers, which is nice for when they need a break. They say you can use your arms, your hands, your calves, and your thighs so you don't have to keep pricking the same spot over and over again. This gives you some versatility and allows you to test different areas until you find one that you can tolerate best.
Evaluation
The FreeStyle Lite meter is getting excellent reviews from users, and it's not really a big shock because the company behind it, Abbott Laboratories, has been in the pharmaceutical game for over a century now and seems to consistently update and improve their products, to the tune of billions of dollars in revenues each year. It's important to know that the products you are using pass strict quality control standards, because you're basically putting your well-being into the ability of these strips and this monitor to give you accurate readings so you can make the right decisions.
If you've been used to using a meter that requires coding, you'll definitely appreciate the difference when you start using one that doesn't require any coding. You might feel more confident that your readings are accurate and that you're giving yourself the right dosage of insulin. You might also enjoy the time savings, or the lack of hassle that's involved with having to recode your device each time you use new strips.
Final FreeStyle Lite Review
We're giving the FreeStyle Lite our Solid Try rating. The feedback on it is solid, and there's no reason to believe that it won't work as advertised for you. Of course, with products like these there is always a chance that they won't be your cup of tea, so keep in mind that you have other options when it comes to diabetic testing. It's all about sampling what's out there and seeing what you like best. You might think your current methods are good enough and getting you by, but you can get a serious quality of life upgrade by making this part of your day more bearable.
Our Recommendation
There's not many diabetics out there that look forward to testing time. That's why it's important to make it as painless as possible. It can really make a big difference getting accurate readings multiple times a day, and it can make it so your diabetes becomes more and more manageable. The key is not putting a ton of hope on any one product, no matter what sort of promises it makes. You have to keep an open mind as you try out what's out there and see how you respond to it.
What do you think? Does FreeStyle Lite work or not?