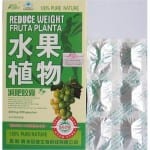 With so many weight loss pills on the market, it is hard to tell which one is the best and which will work but the makers of Fruta Planta are adamant that their pill stands heads and shoulders above the rest.
Overview
Fruta Planta is a weight loss pill with a difference. Not only does it curb the appetite but the active ingredient in the pill also reactively works with the digestive system in the stomach to encourage reduced calorie consumption. There are two forms of Fruta Planta: the Chinese one which is banned from America by the Food and Drugs Association and the USA version which is not banned.
The Claim
Fruta Planta claims that there pills increase metabolism which is what most weight loss pills do and is the main reason why they work. They also make the statement that you will have increased energy from using these pills which is essentially a side effect from the increase in metabolism.
Perhaps the biggest and most attractive claim that Fruta Planta make to draw in potential customers is the claim that states that their product will shrink the size of your stomach to its original size. This gives the effect of a fresh start and means that you can take care of yourself from the outset.
The Hype
The hype of Fruta Planta is that it can dramatically reduce your ability to intake calories by reducing the stomach size and so will make the consumer feel as though they are filled to the brim when the meal that they have eaten may have been half the size of a normal sized meal. By doing this naturally, the effects are more likely to stay put and a return to large portions and big appetite is much less likely.
The Cost
30 capsules of the Fruta Planta weight loss pill retails at $49.95 and is intended as being a one-a-day pill and therefore one box lasts one month. It is available in most good pharmaceutical and health shops or online. There are always offers to be had on buying Fruta Planta so look out for these.
The Commitment
Fruta Planta does require a change in lifestyle for those that do not currently eat healthy enough. There is absolutely no point in the consumer taking the capsules and continue to eat realms of fatty foods and calorific products.
If you are willing to make a dietary change or indeed already have done so and need that extra push to help keep your metabolism up and your energy levels stable, then Fruta Planta will help you. The once daily capsule can be added to a morning or evening routine and so does not require any stressing and is as easy as anything else you can do.
Evaluation
Unfortunately, in a small number of cases, Fruta Planta has dealt out some adverse side effects to its users. The first and most common side effect that is seen by the user is the inability to sleep. With Fruta Planta offering the user increased energy through the day, some users have found it difficult to disperse this energy at the end of the day when they should be sleeping. This side effect normally only lasts for the first two weeks of use.
The second most common side effect is for the user to be constipated. This is not very good for a product that deals with weight loss for obvious reasons. This effect will be negated by continued use as your body adjusts to the new substances. Two side effects that have been claimed by users but have not been proven or confirmed by the manufacturer are rashes and sensitive teeth. Rashes have been noticed in some cases on the torso shortly after the initial use and sensitive teeth have been noted in people that have used Fruta Planta for long periods of time.
Does Fruta Planta Really Work?
On separate review sites away from the corporate website, there are many reviews to be had that say that Fruta Planta has served them extremely well in the journey of losing weight and getting fit. Some that mention the side effects say that once they were noticed they stopped using the product immediately but those that persevered say that they were happy to take a couple of major side effects if it means them being thin at the end of it all.
Our Recommendation
If you are the type of person that gets a little edgy by the side effects that we have explained, then this product is not for you. For those that are determined to see some great results no matter a few side effects, and get excellent effects of weight loss, then this product is perfect for you. However, there are more effective, safer products available that have no side effects.
All-Natural Weight Loss Supplements that Work Better
There is a new weight loss supplement that was recently recommended by Dr. OZ called Rasberry Ketones. If you were interested in Fruta Planta, you may want to take a look at that.
There is also the highly rated African Mango.
What Do You Think? Does Fruta Planta Really Work?