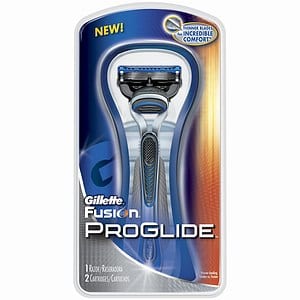 The Gillette Fusion ProGlide is one of the most expensive disposable razors on the market right now, and also arguably the most heavily advertised. So when you see it in the shaving aisle at the local supermarket, should you bite the bullet and go ahead with it, or are you better served, either financially or with a better quality shave, by another blade?
Overview
Shaving is a multi-billion dollar industry, mostly due to the fact that a lot of guys shave everyday, and they need things like shaving cream, shaving gels, razors, after-shave lotions and balms, and moisturizers. Gillette is one of the major players, along with Schick, and they're known for playing leap frog in a virtual arms race towards more and more blades packed onto one razor. This current monstrosity has five blades to Schick's Quattro, which as you may have guessed has only four blades.
The Claim
Gillette claims that their Fusion ProGlide razor gets you the closest shave possible, with less strokes, because of the 5 blades is has back to back. They say that you can also trim your sideburns because there's a single blade on the back so you can get precise. Schick claims that the blades on their most expensive model are made from titanium, but Gillette doesn't make a claim like this, just stating that their blades are thinner, and are coated so that they glide more easily along the face.
The Hype
The hype comes in the form of the number of celebrities they have endorsing these razors. It's not enough to be one of the only razors out there with five blades, they've got to get every big sports star to get on board with them, including Tom Brady, Roger Federer, and before his infidelity scandal, Tiger Woods. A lot of the advertising they do is based at establishing the brand as the dominant brand, for example the phrase "Gillette, the best a man can get" is intended to embed this brand as the default go-to when you need a close shave.
The Cost
This is where the Gillette Fusion ProGlide loses some mass appeal. Getting the handle is cheap enough, but then they burn you on the replacement cartridges. They've been saying that you can get five weeks of shaves off of one razor, and if this holds up they wouldn't be altogether too expensive, since you only get one good shave out of a disposable blade. If you find these on sale you can look to spend around $30 or more for an 8 pack. So about $4 a blade, which isn't bad if you can really get over a month's worth of shaves with it.
The Commitment
Compared to using an electric razor, there's a bit more commitment involved here. You'll need to use some sort of shaving gel or cream and be used to shaving with a razor. However, because it has five blades, they claim that you don't have to go over the same spots again and again, so in theory this should involve less time and less irritation, and therefore less commitment on your part. However, if you're using an electric razor now, you'll have to get used to the shaving process, using a shave gel, and making a bigger mess than you're used to.
Evaluation
The Gillette Fusion ProGlide comes in a battery powered version, as well as a manual. They say that the Power version has a microchip in it that regulates the power usage so that you get consistency each time you use it. This would be a way to blend the realm of electric razors with a manual razor. The overall feedback on these blades is that they get the job done, and after testing them out in-home we can say that it's the closest shave we've ever had, with the least irritation, even when compared to using a Philips Norelco electric razor.
In our capitalist society there has to be a market leader when it comes to men's shaving, and that just happens to be Gillette. You can't fault them for creating a quality product and then advertising that product as much as they can. And they wouldn't be charging the price they do if people weren't buying them at that price, so there has to be a justifiable number of guys that are springing for them in order to keep them at that price.
Final Gillette Fusion ProGlide Review
The Gillette Fusion ProGlide works great, if you can justify the cost. If you're used to using an electric razor, you'll likely have a transitional period where your facial hair will adjust to the difference. If you're used to using a lower-grade blade then you'll probably notice the benefits on the first shave. These are typically reported as less pulling on the hair, less razor burn and bumps, and an overall closer shave than a typical disposable blade.
Our Recommendation
If you're going to go with this, and you have sensitive skin, we recommend getting the Power model. The extra battery power makes it so you don't have to go over the same spot more than twice, and you get a shave that is closer than any electric razor on the market. When you're going for the ultra smooth look, there's only one way you can go. Even the most expensive electric razors won't get your face as smooth as a blade, or in this case five of them.
What do you think? Does Gillette Fusion ProGlide work or not?