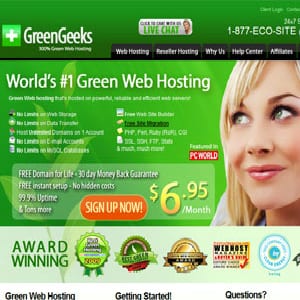 Many web hosts out there claim to be green, but GreenGeeks says they're 300% green. What does that even mean? It means that they're not just covering their own carbon footprint, but those of others as well. It's like going above and beyond the basic requirements of an eco-friendly hosting company. But how good is their service, and can they price compete with some of the other hosts out there?
Overview
When it comes to hosting there are literally thousands of hosts you can go with. Most people base their decision on things like how much bandwidth you get, how much disk space, and the price. Since many hosting packages out there are essentially the same as far as the features go, there are other ways to compete, such as customer service, uptime guarantees, and things like being a green host.
The Claim
GreenGeeks says that their infrastructure is energy efficient, and that they use wind power to run all of their servers, producing a power surplus, and remaining carbon neutral. They also claim to be able to offer unlimited disk space, bandwidth, email account, and databases, just like all the major web hosting companies. They also say they're hosting over 100,000 websites.
The Eco-Friendly Hype
Everyone has been talking about green hosting lately, and at first it just appears to be something that is not a big concern. But the more you think about it the more you realize that hosting websites actually does represent a strain on the environment. The servers that have to be run 24/7 are real energy guzzlers, and that energy has to come from somewhere.
Of course the hosting companies are the ones that pay the power bills, and have to make sure they can pay all of the expenses and still make a profit. So it's nice to know that they are trying to make sure they try to balance out their effect on the environment by using things like wind power.
The Cost
GreenGeeks is definitely trying to price compete with the big boys like HostGator and DreamHost. At $5 a month for their unlimited plan, they've pretty much made it a coin flip on which service to use, and they're hoping that their green quality will be what wins people over.
The Commitment
There aren't any contracts to sign here, you can stop at any time. Most people that find a good host end up staying on with it for the long term, just because it's easier to keep all of your sites going without the hassle of changing hosts. If you're changing from your current host, you'll want to make sure you oversee everything and stay involved with the process until you're sure it's been transferred and is up and running properly.
Evaluation
GreenGeeks says that have a 99.9% uptime, which is pretty standard across the industry. They also have support that is from North America so your call doesn't get routed abroad and you don't have to get lost in translation with someone doing their best to understand you. As an added bonus they'll give you a free domain and keep renewing it for you as long as you stay on with their service.
Since this is a super competitive market and all of the hosting companies are basically selling the same product, it comes down to the little differences. You have to be able to differentiate your product in the marketplace and explain to people why you're a better choice than your competitor. In this case, GreenGeeks is doing a pretty good job of making a case for themselves, offering the same caliber of hosting, at the same price, but doing perhaps a better job at customer service, and making it easier to get started and stay on with them.
Final GreenGeeks Review
GreenGeeks is getting a Thumbs Up rating from us, based on the positive feedback they get from users, as well as their commitment to the environment. They are managing to compete with the big hosting companies out there by offering the same unlimited accounts at the same price, but they are more eco-friendly and have some added features that make them a good choice. If you want that mom and pop feel of a small company, but still get good reliable hosting, this would be a company to consider.
Our Recommendation
If you're conscious about the damage we're doing to the Earth on a daily basis, it can give you the warm fuzzies to know that your websites aren't contributing to it. However, keep in mind that while the major selling feature of GreenGeeks is that they're a green host, even the major players like HostGator are green. They're 130% green, so they're going above and beyond as well. Just something to keep in mind when you make your decision.
What do you think? Does GreenGeeks work or not?