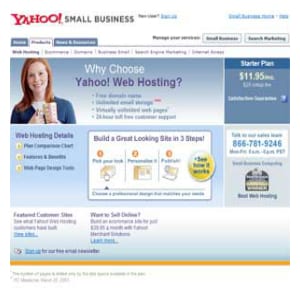 If you're considering Yahoo! Web Hosting you're probably lured in by the big name of Yahoo! and figure that they've probably got a good hosting package. With so many hosts to choose from, a company really has to bring its A game if they want to earn your business. So let's size up what they're offering here and see if the price point is right for what you're getting.
Overview
Yahoo! is primarily known as a search engine, and had some initial success before Google came along and outdid them on every single feature they had. They've had a small business services section for several years now, and have always offered things like domain registration, hosting, and site building software. It all seems to dovetail into their overall strategy of getting business owners found on the Internet, specifically in the Yahoo! search results and directory.
The Claim
Yahoo! Web Hosting claims that they make it easy to start a professional web site quickly. They show examples of customer sites that are supposed to look professional and show you what you can accomplish with their different programs. If you just need a simple brochure-style site for people to find you online, this service might be appealing to you, but you can get the same sort of results for far less from many other hosting companies.
The Hype
The hype comes from the Yahoo! brand name, and people assuming that they must know a thing or two about web hosting since they're such a big part of the Internet. But there's no reason why being a search engine makes you qualified as a web host, so it makes sense to go with a hosting company that is just a hosting company, and not just an offshoot of a different brand and business model. Other companies have more of a focus on providing you with the best hosting experience so that you'll stay on for the long run.
The Cost
Yahoo! Web Hosting comes in three different tiers based on how much storage space and bandwidth you need. It's interesting to see that they're still offering metered usage packages, as most hosting companies have gone unlimited, even on their most basic plans. If you're going to pay $5 a month for a basic plan, why in the world would you settle for a limit of 10 pages when there are other packages out there that are less than $5 that let your site grow as big as you want it. They also have a plan for $8 that bumps up the limits, and they have a $12 plan that has a few unlimited features, but still has a lot of unnecessary limitations that make this a deal breaker.
The Commitment
If getting your website online is your goal, then you've got to commit to getting it done and following through until it's online. It may sound a little intimidating, but it's easier now than it's ever been to put a good-looking website online, starting from scratch. There are software programs you can run through your web host that will lay the framework for your site, the most popular being WordPress. Then it's just a matter of finding a free template that you can install to make your site look the way you want. Then it's a matter of adding the content and you're set.
Evaluation
Yahoo! Web Hosting seems to be targeting the small business owner that is a total novice when it comes to being online and hosting their website. Many small business owners are so focused on running the day to day operations in their offline locations that they haven't had much time to devote to becoming Internet savvy and would go with this hosting because they recognize the Yahoo! brand name and might think that this has something to do with hosting.
There's just not enough that Yahoo! is bringing to the table here to justify the higher cost. If you think that you're somehow going to get a higher ranking in Yahoo! or other search engines by hosting with them instead of somewhere else, you'd be wrong. If you want to be included in the Yahoo! directory it's going to cost you $300 and there's no guarantee that you will make it in. They wouldn't let you bypass this requirement by simply buying their hosting plan.
Final Yahoo! Web Hosting Review
Yahoo! Web Hosting seems as if they're living in a bubble where they're not concerned with what others hosts are charging and including in their plans. Someone should send them a memo letting them know that metered accounts went out of style a few years ago. They seem to understand it exists, but their Premier plan at $12 a month after the promo price wears off is nearly double what you'd pay for a better plan at other hosts.
Our Recommendation
There are much better alternatives than Yahoo! for your hosting needs, no matter what size your business is. There's no reason to pay more to get less. If you've got one or a dozen websites you want hosted, you can pick the smallest plan from HostGator and host unlimited domains and not have to worry about using too much space or getting too much traffic. Plus you'll be getting it for the same price as Yahoo's smallest plan but without all of the restrictions and limitations.
What do you think? Does Yahoo! Web Hosting work or not?