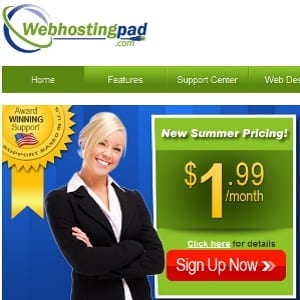 You might do a double-take when you see the price for Web Hosting Pad. They are definitely trying to compete on price, and have the same features as other company's packages for about half the price. Usually this is where we ask what's the catch, and it turns out there are a few of them. Let's see what the deal is here.
Overview
Finding a good host is not too hard these days, and more often than not you'll end up keeping the same hosting for a long time if you find one that suits you. Since most of the features are the same from host to host, it comes down to the finer details that you need to consider. Mostly this is the level of customer service you're going to receive, and how many extra bonuses you get by being with one host over another.
The Claim
Web Hosting Pad claims what most all hosting companies these days claim, that you get an unlimited amount of storage space and bandwidth, and that you can host an unlimited amount of domain names from the same account. They also say you get a free domain name, and that they have a 99.9% uptime. These are all standard features for most hosts.
They also say that their customer service is based in the United States and is available 24 hours a day. This may be a comfort to those that have had server issues and needed assistance and had to wait for customer service hours to roll around.
The Hype
Hosting a website is all the rage these days as more and more people are getting their online business set up, and dipping their toes in to see what's it's like to be an Internet entrepreneur. Luckily it's easier than ever to get a website up and running from scratch, and hosting is an important part of it.
The Cost
The $2 a month price that Web Hosting Pad showcases on its main page is if you sign on for a full 5 years. While that may seem like a long time to have hosting, the chances are that if you start hosting a website or websites now, you'll need to continue to do so indefinitely, so locking in a monthly price like this is smart money if you find the right host.
The Commitment
The big drawback to going with this hosting is that they only give a refund within the first 30 days. After that you are locked in for the remaining time and they don't issue partial refunds. This is totally unacceptable, and is basically a pig in a poke. You don't know what you're getting, but forced to put up all of the money upfront. Most of the hosts out there will return the difference back to you so you only pay for the time you use.
And that's how it should be really. How do they know how good their hosting will be 8 months from now? Or 3 years from now? Technology is always changing, companies are coming and going. It's hard to convince someone to buy a 5 year service plan and not give them any assurance that they can get their money back if they're not happy after 2 years.
Evaluation
Web Hosting Pad comes with all of the features you'd expect it to, and has the right price compared to some of the other hosting companies out there. However, there are a few signs that this might not be all it's cracked up to be, and there are better options out there that you should consider first before going with this one.
They say that their customer service is based in the United States, perhaps as a way to assure people that they will not have any language barriers when they call in for support. However, after interacting with their customer service, we're guessing that they might not be from the US, based on their grammar and canned responses.
Final Web Hosting Pad Review
Web Hosting Pad has some good things going for it, but we just can't look past the fact that you can only get a refund in the first 30 days. It seems silly to put money upfront on service when you have no idea how happy you're going to be with it 6 months down the road and especially a year or longer. All of the benefits of this policy are for them, and it puts no pressure on them to continually improve their service if they've already collected your money and don't give any refunds after the first month.
Our Recommendation
Go with a host that offers you a money back guarantee for the life of your hosting. This means that at any time you decide you want to cancel your service, you'll get a refund on the time remaining, so you only end up paying for time you use.
What do you think? Does Web Hosting Pad work or not?