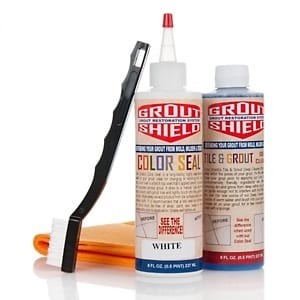 Cleaning grout is a pain in the, well, elbow among other things, and Grout Shield is designed to make it a lot easier. If you're sick of scrubbing away at your shower tiles, this could be your knight in shining armor, or it could be a big flop. We'll break it down for you and let you know if this is worth adding to your bathroom cleaning arsenal.
Overview
The phrase 'dirty grout' send shivers down the spine of anyone who's tried to conquer this bathroom beast. It makes such a big difference between having your bathroom and shower area look clean, or having it look old and run down. It seems that there aren't many products that are effective at keeping the grout between your tiles looking shiny and new. Because of the nature of the shower area, it is prone to dirt, wetness, mildew, and mold. All of these can affect the nice white surface you started off with.
The Claim
Grout Shield claims they can restore your grout to the brightness level that you started out with. It does this with a combination of cleanser, cover up, and protective re-surfacing. The concept is that once you apply Grout Shield your grout will be protected from those stubborn stains that get soaked in the grout and are nearly impossible to remove.
The Hype
Grout seems to hit a nerve with most people, and therefore anything that comes along that promises to help in this area will definitely get a lot of attention. The real eye-catching feature of Grout Shield is that it is supposed to prevent stains from reoccurring once you apply it. This would definitely make it in a class by itself.
The Cost
For a kit that covers 250 square feet it's just $40, or you can double the offer for $60. Once you have the kit, you can order a refill bottles ranging from 8 ounces to a gallon.
The Commitment
Grout is a pain because there's so much of it to cover. If your bathroom tile is like most people's you probably have them laid out like brickwork so you have to do a bunch of horizontal and vertical lines if you want to get everything looking top-notch. This may be more time than you'd ever care to spend in your shower, so it really depends on how much dirty grout makes you crazy.
Evaluation
Grout Shield goes on in a two step process, first you cleanse your tiles and grout with the included cleaning solution and brush. This opens up the grout so that it can accept the next step. Next, you apply the Grout Shield liquid directly to your grout, brush it in, and then smooth it off with your finger. Then just use the included chamois cloth to wipe away the excess. It is designed to adhere to the grout but not to your tiles, leaving them looking the way they did when they were new.
Once Grout Shield is in place, it is there to protect your grout from common stains and keep it looking fresh. This is what sets Grout Shield apart from all of its competitors that simply clean the grout, or cover it up. This cleans, covers, and protects.
After observing real-world testing, it is pretty clear that Grout Shield is a well-designed product that works as advertised. Feedback has been positive overall, with a few negative reviews here and there. As can be explained because it's not exactly the most easy-to-use product, and several people will probably get frustrated with the amount of time and effort it takes to clean an entire shower, especially if it's heavily tiled.
Final Grout Shield Review
There is no shortage of options when it comes to cleaning the grout in your bathroom. However, Grout Shield seems to be a workable option for most people that try it. The application process seems pretty easy, but also a little time consuming, so this isn't really a question of whether or not it works, but whether or not you have the time and wherewithal to stick with it through the end.
Luckily, it's not as if you have to do this every day or every week. Because of the stain repellent nature of Grout Shield it's actually protecting the underlying grout from getting stained again. This means that you should have to scrub and treat your grout less and less as you go along.
Our Recommendation
This is really a matter of trying a lot of different things until you hit on the one that works for your specific bathroom. Each house is different, and each product works in a different way and agrees with different people. We recommend treating this like a science project, and not really getting emotionally involved in the outcome. Just keep testing and measuring results until you find the solution for you.
What do you think? Does Grout Shield work or not?