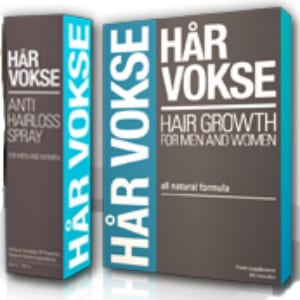 Samson knew the importance of a good head of hair, and Har Vokse is promising to get your healthy mane back for you. They say that using their all natural formula will put your hair back to the way it once was, lush, full, strong, and growing on all parts of your head. But can a simple spray and pill combination really be the one-two punch your hair needs to get its act together?
Overview
It can be devastating for some guys to lose their hair, especially when it happens at an age that doesn't seem fair. It's been shown to put a big damper on self confidence, and can push some guys to start doing the comb-over, or wearing hats all of the time. Solutions to the problem either come with their own share of drawbacks, or come with mixed reviews as to their effectiveness. The goal is finding a product that works for the majority of men out there, with the least amount of side effects, and at price that you can afford for the long term.
The Claim
Har Vokse says that it cleanses your scalp and nourishes your hair so that you'll see more volume, and your hair will grow in thicker and stronger. They also say that it stops hair loss and helps it start regrowing with better quality hair.
They say that it will reduce the amount of inflammation you have on your scalp, and encourage new hair to grow. They say it does all this with no side effects.
These are pretty bold claims when you think about it. Even the strongest prescription drugs for hair loss don't go so far with their promises. This is mostly do to FDA requirements, but still, they know that getting hair to regrow is no easy task, and most guys will get spotty results.
The Hype
The hype is that promising guys with thinning hair a regrowth without using a harsh prescription drug is a pretty mean spirited thing to do if it doesn't work. Men have been battling hair loss for generations and it is nice to think of your hair regrowing back to all of its glory. The hype is in that dream and strong desire of guys with thinning hair.
The Cost
A six month supply of Har Vokse is $214, which really does seem like the best deal, since a single order of both the spray and the pills will run you $92.
The Commitment
You have to remember to use this daily, both the spray and taking the pills. Many guys don't have a problem with this regimen, because they are highly motivated to use it and see it work for them.
Evaluation
Har Vokse is a two part system. First is the topical spray that gets applied directly to the scalp. There's also an herbal supplement that you take to help stop your hair loss from within the body. They say that it is Marine Polysaccharides that is the core of why it works, and a search reveals that they are one of only a few products on the market that are using this.
The other ingredients all seem sound, and the feedback on this suggests that there is some validity to the claims. With these types of products, there's just no way to know if it will work for you until you give it a go. Always go with products that offer a money back guarantee so you can trial them without worrying about losing your money. This take a lot of the pressure off and lets you take more of a scientific approach.
Final Har Vokse Review
Har Vokse is an interesting product, and is a bit unlike anything else we've reviewed for hair loss up to this point. Most products either focus on a topical treatment, or a pill. This one has both. It also sticks to an all-natural formula, so it's not as if you need a prescription, or have to worry about a laundry list of side effects from taking it. Things like Rogaine are well-known, and even that is not proven to work in all cases. Your best bet here is to try out the hair loss systems that seem to make the most sense to you, until you find one that works for your specific situation.
Our Recommendation
The price is not too bad on this one, and the system is pretty comprehensive. We always like it when products work both on the surface and internally. The hair that's already on your head is different than the new hair that is forming under the scalp, so it only makes sense to treat both of them at once. In fact, the packages they sell have several units of the herbal pill, but only come with one bottle of spray, as you won't need to use the spray indefinitely since the new hair that grows in should be fortified by the pills.
We recommend giving this a try, so you can see exactly what results you get for yourself.
Official Website: Har Vokse
What do you think? Does Har Vokse work or not?