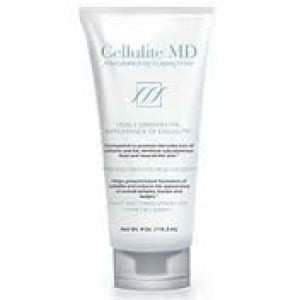 Cellulite MD says that it can help your body get rid of the fat and body waste that is causing your cellulite. Since this is a somewhat embarrassing problem, and we'd like it to go away just as quickly as possible, a product like this is going to seem like a godsend. So can the solution really come in a tube like this?
Overview
Cellulite can stick around, even after losing a lot of weight, and doing a lot of exercise. It's as if it is impervious to attempts at getting it to go away. You might feel like you need some assistance with the removal process, and there are plenty of cellulite creams, pills, lotions, workout pants, and more that promise to help you on your quest. Cellulite MD is a cream that
The Claim
Cellulite MD claims that the magic ingredients are extracts of Coenzyme A and bupleurum falcatum. Bupleurum falcatum is a Chinese herb that has been shown to have positive effects on the liver, and also to work with cases of depression. Coenzyme A has been claimed to assist in cardiovascular health and circulation, as well as with metabolizing fatty acids. They say that by combining these two together they get your body to break down the fatty tissue that leads to the telltale appearance of cellulite.
They say that your body will actually start turning your cellulite into energy. They also say that it works at preventing a recurrence of your cellulite by inhibiting its ability to grow. They also say that you can rid yourself of excess fluid, which is trapped in your fat cells and what makes cellulite look the way it does, the "cottage cheese" look. They say be releasing these trapped fluids you might see inches coming off of your thigh areas.
They also say that this is great for your skin by helping your body produce more collagen, which will give your skin that tight, elastic feeling again.
The Hype
Saying that some people are calling this lipo in a tube is enough hype, because it makes you think that you are going to get the same kind of results as you would from expensive surgical options.
The Cost
Cellulite MD is $90 for one tube, and $140 for two tubes. They have a 30 day return policy, and they let you use the product within that window and return what you haven't used.
The Commitment
The instructions say to use this twice a day, morning and night on the areas where you want to see improvement. A good idea would be to also watch what you're eating, and get regular exercise, as these will both go a long way in helping you to see the results you're going for.
Evaluation
Cellulite MD gets decent reviews from users. They say that it makes their skin feel and look better, and after about a month of use they are noticing that the dimply areas that were giving them trouble are not so dimply any more, and are starting to look like they used to. When it comes to cellulite cream, you'll usually get a mixed bag of responses because there are so many different skin types, as well as body make ups, and degrees of cellulite severity that there's no way to make a product that works for everyone, every time.
But with this cream there aren't too many naysayers, and even those that said they didn't really like it, still praised its ability to make the skin tighter and look better overall. It's mostly those that only tried it out for a short time and then stopped using it that didn't feel it worked. But we all know the stubbornness of cellulite, so you have to be even more stubborn than it is if you want to vanquish your foe.
Final Cellulite MD Review
At this price point, Cellulite MD had better work. We're giving it a Try rating due to the positive feedback it has been getting. It might not take away all of your cellulite overnight, but with repeated and extended use it has been consistently shown to increase the look and feel of your skin. The key is to get religious about it, and wake up every morning ready to put it on, and add it to your getting ready for bed routine. Only when you make it a habit and use it for the long term are you setting yourself up for a successful trial.
Our Recommendation
You'll probably find that you'll need a mix of many different skin creams to keep your body looking great. There are special moisturizers for your feet and hands, and there are also body lotions. Adding a cellulite cream to the mix just makes sense, and can go a long way into improving the overall look health of your skin.
What do you think? Does Cellulite MD work or not?