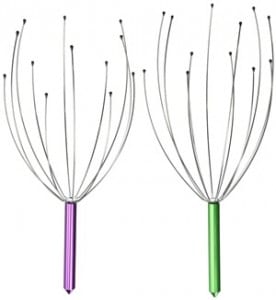 Almost everyone loves a massage and when it comes to a scalp massage that is done right then there are just not enough words to describe the feeling. How about doing your own scalp massage with this Hand Held Scalp Massager?
Overview
You just won't believe how simple the Hand Held Scalp Massager really is yet it is a best seller on Amazon. It looks like a wire whisk that you would beat eggs with yet a much larger version. You simply rub this along your scalp and get ready to enjoy the comfort and pleasure it brings.
The Claim
The promoters claim that the Hand Held Scalp Massager promotes relaxation and relieves stress. They say that it helps to increase blood circulation to the scalp. All of these claims are believable because they are the same benefits that a hand scalp massage will deliver.
The Hype
The great thing about the Hand Held Scalp Massager is you don't need to rely on anyone else for a truly blissful scalp massage. Now you can do it yourself and get great results.
The Cost
You are going to be thrilled with the price of the Hand Held Scalp Massager. You get a package of 2 for just $2.01!With the price being so low even if you were not all that impressed with it you haven't lost much.
The Commitment
Once you have tried the Hand Held Scalp Massager you are not likely going to have to be reminded to use it again. Then again if you are really not into scalp massages then you won't be as impressed with the product as others are.
Evaluation
Overall we think this a really nifty product. Tons of women love going to the salon to have their hair washed just so they can enjoy the scalp massage. For those this product could be a real money saver.
Final Hand Held Scalp Massager Review
We are going this give this product a Thumbs Up rating. Over 1,500 buyers of the product that gave good reviews can't be wrong. Besides you just can't beat the price. On a serious note though, a good scalp massage can really be beneficial for the health of your hair. It helps to stimulate blood flow to the hair follicles which nourish the hair. There are some people who have reported using the Hand Held Scalp Massager when they have a headache and they have found that it helps to relieve it.
Our Recommendation
You may want to be cautious when using this on curly hair as some have said that the hair can get tangled in it. Overall if you don't want to buy this for yourself then it would make a great novelty gift or a perfect stocking stuffer for Christmas. While we have talked about other massagers in the past like the Squeeze Reliever we have never focused on one for the hair, so we thought you may find this interesting.
What do you think? Does the Hand Held Scalp Massager work or not?