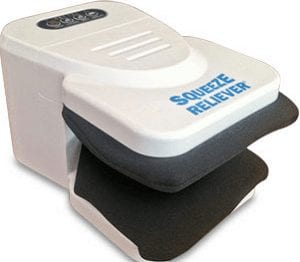 The Squeeze Reliever is a portable type massage unit that can be easily used for various parts of the body to help create pressure to relieve sore and tired aching muscles. Does it really help to relieve the pain from these ailments?
Overview
This unit works on the application of pressure therapy. This is something that many of us do when we are hurting from stiff and sore muscles. We will squeeze and rub our hands when they hurt. If our feet are aching we will do the same thing. The only problem is we can't keep this up for very long. The Squeeze Reliever can perform a similar action without our having to put any effort into it. The unit allows you to adjust the pressure and the timing to best suit your comfort level.
The Claim
The Company claims that this product is ideal for those suffering with arthritis, bunions and even carpal tunnel syndrome, or just general tired hands and feet and other body parts. They say the product adjusts easily for any size hand, wrist or foot. According to the company it can even be used on the elbow or calves, and is easily transported because it is so portable.
The Hype
When it comes to any type of pain relief there isn't much a marketer has to do to convince their chosen market that this is a problem that many people face. The challenge that comes with this type of product is to convince people that it is so unique that it works better than similar products on the market. People who suffer with aches and pains that a massager can help relieve want something they can take with them on the go. They hype for this product covers that exact benefit and also appeals to many because of its reasonable cost.
The Cost
You are going to be able to order this product for $44. which includes the shipping and handling. However, you do have an option to purchase a power adapter for an extra $8.
The Commitment
One of the problems that arises when an individual is in discomfort is they just don't want to be bothered doing anything. They just want the pain to subside. If you are going to put the Squeeze Reliever to work for you then you are going to have to take the time to plug it in, get comfortable and position it on the pain source. From this point it should get easier because now you can sit back and relax and let the unit bring you some relief.
Evaluation
There is no real task in trying to evaluate whether massage has benefits to it. The challenge comes with trying to determine whether such a small compact unit like this Squeeze Reliever really has the power to perform and get the required results. The size should not be a deterrent because when you look at the size of the hands which are ideal for giving massage then its comparable. The concern is whether this product is going to be able to provide the relief to the designated area. There are many other massage type units on the market, but a lot of them really come with mixed reviews. First many of them only focus on specific areas like the lower body, consisting of the legs or feet. A product such as this is the UComfy Leg, Foot, Calf, and Ankle Massager. It is big and bulky and comes with a hefty price and poor reviews.
Final Squeeze Reliever Review
With everything that this product has to offer, it's versatility and reasonable price we are going to go with a thumbs up rating. Why not pay money for something that is going to bring relief to various parts of your body rather than be restricted to a product that only caters to one area like we talk about in our Electrofoot Massager review.
Our Recommendation
The Squeeze Reliever has all the key benefits that one looks for when it comes to massage. It gives deep muscle and tissue massage and vibrates as well. It can be adjusted for pressure and can be used on many parts of the body, so what more could we ask for. Similar units can cost over $100. and may not be nearly as versatile or portable as this unit.
What do you think? Does Squeeze Reliever work or not?