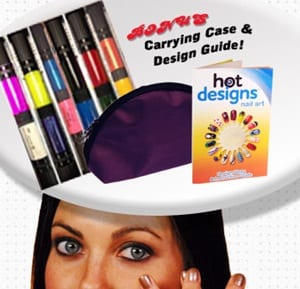 Hot Designs Nail Art Pens are a simple to use pen that allows you to create french manicures and all kinds of designs for nail art. While there are tons of nail art kits on the market is there anything that makes this nail tool really special?
Overview
Young ladies start at a very young age to take an interest in their nails, and when it comes to nail art it is a main attraction for their nail appearance. A few years back women would pay a ton of money just to have interesting designs painted on their nails. Then this was followed by being able to buy nail decals. Now the nail art industry has evolved into do it yourself products, and that is exactly what Hot Designs Nail Art Pens is. It is a kit that comes with a selection of polish pens that allow you to use it as regular polish but also with a fine tip to create nail art designs. Its a combo pen/brush for the polish application.
The Claim
The company claims that it is super easy to work with and anybody can create some great nail art designs. They state that you can easily control the flow of the polish so it applies easily. They say you can use it both on your fingernails as well as your toenails.
The Hype
This is one product that doesn't require a lot of hype to be created because it already exists. The real challenge is to promote something that is unique and the hype used to accomplish this for this Hot Designs product is the ease of use and convenience. Not having to have separate base polish and then nail art paint makes it much easier.
The Cost
You are asked to pay $23.which includes the shipping and handling for 3 pens and they will include 3 more pens, so you are receiving a set of 6 pens in total. Then included is a nail art design book and a handy carrying case.
The Commitment
There are a couple of things that you are going to have to devote some time to. First you need the patience to apply the base coat to your nails and sit and wait for it to dry completely. Good looking nail art demands a dry surface to bond to. Then you are going to have to practice some of the more intricate designs once you become comfortable with using the pen point section of the pen itself. Again you will need to adjust for some drying time of the completed nail art. This usually takes a little longer because the polish goes on thicker in many cases.
Evaluation
There are just so many similar products on the market that it has been quite the task determining if Hot Designs really is much different. Taking a look at some of its benefits has helped us reach a conclusion. First it really is convenient to have both the base polish and the nail art colors all in one pen. This saves on cost and is convenient. Then with your purchase which includes 6 pens you are getting a good color selection. A similar nail art product provides many more colors but does not have the fine detailing benefits that come with the Hot Designs, and the quality of the paint received some user complaints.
Final Hot Designs Nail Art Pens Review
We have decided to give the Hot Designs Nail Art Pens a Try/Buy Review. Simply because it is so convenient and easy to use. We didn't go all the way with a thumbs up because there is not enough feedback as yet that relates to the quality and flow of the polish itself. Plus the product has to compete with brand name nail products like Sally Hansen. Finally Hot Designs is almost identical to Migi Nail Art which we reviewed in the past.
Our Recommendation
We think that you should really check out the Migi Nail art and compare it to the Hot Designs. They both have some interesting features. Migi sells for $25. but you only get 4 pens whereas Hot Designs sells for $23. and you get 6 pens. However, if you register with Migi then you can get refills free with just paying the shipping costs. When you compare the videos for both of the products you will probably agree that the Hot Designs seems to create a much cleaner look.
What do you think? Does Hot Designs Nail Art Pens work or not?