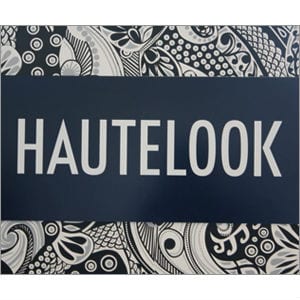 HauteLook is a member site provided by Nordstrom that provides sale items in several different departments. It's supposed to have drastically reduced prices on name brand items, but let's see what it really looks like on the inside and do some cross checking to see what sort of deals it really entails.
Overview
Retail therapy stems from that feeling you get when you know you got a good deal on an item that others are probably paying more for. We're always looking for a deal and that's what makes a website like HauteLook so attractive, at least at first glance. Since it's a Nordstrom company the underlying idea is that you're getting the same sort of quality items, or at least the same brands, that they would have in their stores, but at reduced prices because they're clearance items.
The Claim
HauteLook claims that you'll be privy to some really great deals, deals you wouldn't be able to find in store, and ones that you wouldn't have access to without an online membership. They also say that you'll get a mix of different items on offer, for both men and women, as well as kids and things for your home. Of course they also have specials on beauty products, so you can find an assortment of different products that you might have been looking for anyway, and can score them at discounted prices all in one place.
The Hype
They refer to it as a membership, but since it's free and anyone can join it's not as if it's exclusive by any means, or there's a waiting list to get in. They basically just want your information so that they can send you emails and reminders to come back to the site to peruse their latest offers. They also hype up how much you can save. Some have pointed out that they inflate the retail prices in order to make the savings look more drastic.
The Cost
It's free to sign up to be a member of Hautelook, and from there it only costs the price of whichever products you're interested in buying. There's also an app that you can download for free for both Android and iPhones. You'll need to provide your contact information in the form of a workable email address, which is a form of currency in our digital era, as it gives companies a way to contact you and entire empires can be built on free memberships alone, just look at Facebook.
The Commitment
You're never under a commitment to buy what's being offered, so it's not like it's a membership that sends you stuff each month and charges you each month. In that respect it's just like a membership you have at any number of sites where they simply send you updates on the new items they have for sale, and you can come by and check them out and see if there's anything that gets you interested in buying.
Evaluation
After taking Hautelook for a spin we were pretty impressed with some of the finds, at least at first. They had a pair of Pink & Pepper Lucie Platform Sandals going for $26 and a search for these uncovered them "on sale" at DSW for $56, with Google Shopping showing the lowest price as $49 from Zappos. That's a pretty good deal for a stylish pair of shoes. The only snag is that they didn't have any sizes available, so there's not really a need to have it listed at the site, since it's only a deal if the deal can be had.
So then we went a different route and tried an Invicta Men's Venom/Reserve Chronograph Watch listed at $339. A quick search for the same watch revealed that this price isn't such a great bargain, with similar styles from the same brand all in that same price range, give or take $25 or so. After a few more searches we were pretty much convinced that the site is good for showing you a broad range of different products, but you should also do a quick Google search to see where the product really ranks in regards to price, so you can determine if you really are getting a good deal or not.
Final HauteLook Review
HauteLook may not be as amazing as they claim it is, but it shouldn't be ignored either. They provide an eclectic assortment of items that you'll likely find interesting, and it can tip you off to some styles that may not have been top sellers but still look good. The discounts you'll be getting will vary, so you should always check to see if you're really getting a good deal before you finalize your purchase. It's a Nordstrom company so it's a legit place to do business online, which might make it preferrable than an unknown website offering the same product at a lower price.
Our Recommendation
It's always nice to have a good collection of sites that show you different products tailored to your specific tastes. Signing up to be a member is easy enough, and if you get sick of their emails you can always unsubscribe or simply filter out their emails from your inbox. But if you like shopping at Nordstrom you'll almost certainly enjoy seeing what Hautelook has on offer and will look forward to opening their update emails.
What do you think? Does HauteLook work or not?